Armitage: Howell goes for 40-tonnes
5th December 1981
Page 3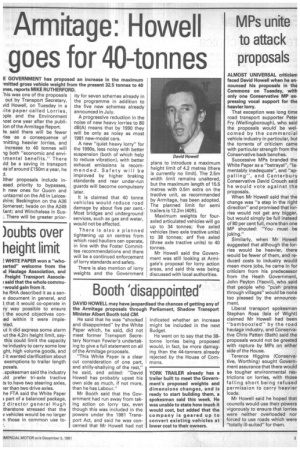 Page 3, 5th December 1981 —
Armitage: Howell goes for 40-tonnes
Close
E GOVERNMENT has proposed an increase in the maximum rmitted gross vehicle weight from the present 32.5 tonnes to 40 Ines, reports MIKE RUTHERFORD.
rhis was one of the proposals out by Transport Secretary, yid Howell, on Tuesday in a lite paper called Lorries, 3ple and the Environment 'lost one year after the publiion of the Armitage Report. ie said there will be fewer ries as a consequence of .mitting heavier lorries, and increase to 40 tonnes will ng both "economic and envilmenta I benefits." There 'Id be a saving in transport ;ts of around £150m a year, he d.
)ther proposals include inased priority to bypasses, h new ones for Quorn and iuntsorrel on the AG in Leicesshire; Beckington on the A36 Somerset; lwade on the A249 Cent; and Winchelsea in Sus There will be greater prior ity for seven schemes already in the programme in addition to the five new schemes already announced in July.
A progressive reduction in the noise of new heavy lorries to 80 dB(A) means that by 1990 they will be only as noisy as most 1981 new-model cars.
A new "quiet heavy lorry" for the 1990s, less noisy with better suspension (both of which help to reduce vibration), with better exhaust emissions is recommended. Safety will be improved by higher braking standards and rear under-run guards will become compulsory later.
It is claimed that 40 tonne vehicles would reduce road damage by about five per cent.. Most bridges and underground services, such as gas and water, would not be affected.
There is also a planned tightening up on centres from which road hauliers can operate, in line with the Foster Committee recommendations and there will be a continued enforcement of lorry standards and safety.
There is also mention of lorry weights and the Government plans to introduce a maximum height limit of 4.2 metres (there is currently no limit). The 2.5m width limit remains unaltered, but the maximum length of 15.5 metres with 0.5m extra on the tractive unit, as recommended by Armitage, has been adopted. The planned limit for semi trailers is 12.2m (40ft).
Maximum weights for fouraxled articulated vehicles will go up to 34 tonnes; five axled vehicles (two axle tractive units) to 38 tonnes; anf five axled (three axle tractive units) to 40 tonnes.
Mr Howell said the Government was still looking at Armigate's proposal for lorry action areas, and said this was being discussed with local authorities.