reedom of choice
5th December 1981
Page 2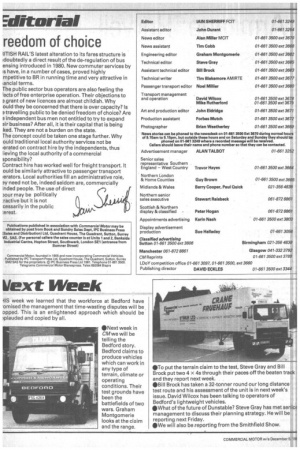 Page 2, 5th December 1981 —
reedom of choice
Close
lITISH RAIL'S latest alteration to its fares structure is idoubtedly a direct result of the de-regulation of bus ensing introduced in 1980. New commuter services by Is have, in a number of cases, proved highly mpetitive to BR in running time and very attractive in Lancia! terms.
The public sector bus operators are also feeling the 'ects of free enterprise operation. Their objections to a. grant of new licences are almost childish. Why ould they be concerned that there is over capacity? Is a travelling public to be denied freedom of choice? Are a independent bus men not entitled to try to expand air business? After all, it is their capital that is being ked. They are not a burden on the state.
The concept could be taken one stage further. Why ould traditional local authority services not be rerated on contract hire by the independents, thus lieving the local authority of a commercial 5ponsibility?
Contract hire has worked well for freight transport. It ould be similarly attractive to passenger transport rerators. Local authorities fill an administrative role, ay need not be, indeed seldom are, commercially Inded people. The use of direct our may be politically :ractive but it is not cessarily in the public :e rest.