Has anyone lost 3 gorilla?
5th December 1981
Page 17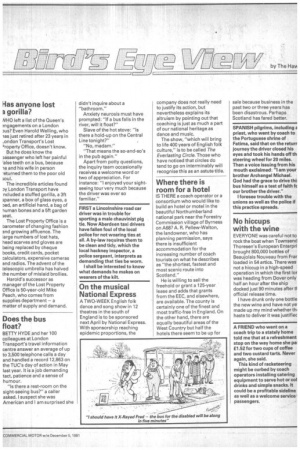 Page 17, 5th December 1981 —
Has anyone lost 3 gorilla?
Close
NHO left a list of the Queen's 3ngagements on a London )us? Even Harold Welling, who las just retired after 23 years in _ondon Transport's Lost 3roperty Office, doesn't know.
But he does know the passenger who left her painful 'else teeth on a bus, because le and his wife in person -eturned them to the poor old The incredible articles found Dy London Transport have ncluded a stuffed gorilla, a 3ft spanner, a box of glass eyes, a Jed, an artificial hand, a bag of -lumen bones and a 5ft garden seat.
The Lost Property Office is a Darometer of changing fashion and growing affluence. The large numbers of lost hats, head scarves and gloves are being replaced by cheque books, credit cards, pocket calculators, expensive cameras and radios. The advent of the telescopic umbrella has halved the number of mislaid brollies.
Harold's successor as manager of the Lost Property Office is 50-year-old Mike Peach, who comes from supplies department — a matter of supply and demand.