Capital bus
5th December 1981
Page 12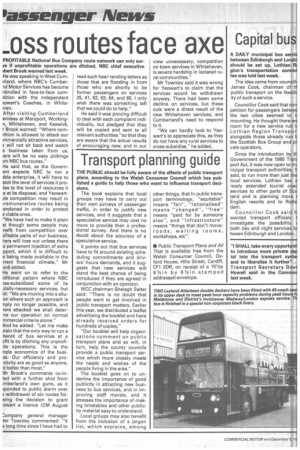 Page 12, 5th December 1981 —
Capital bus
Close
A DAILY municipal bus servic between Edinburgh and Londo should be set up, Lothian RI gion's transportation commi tee was told last week.
The idea came from council!' James Cook, chairman of if public transport on the feasilD ity of such a service.
Councillor Cook said that con petition for passengers betwee the two cities seemed to b mounting. He thought there wa room for a new service run b Lothian Region Transpor alongside those already run b the Scottish Bus Group and pr vate operators.
Since the introduction by th Government of the 1980 Tram port Act, it was now open to mt nicipal transport authorities, h said, to run more than just the local services. Lothian has a ready extended tourist coac services to other parts of Sco land and is planning more t English resorts and to Rotte dam.
Councillor Cook said h wanted transport officials t investigate the possibility c both day and night services IA tween Edinburgh and London.
"I SHALL take every opportunii to introduce more private cap tal into the transport systei and to liberalise it further" . Transport Secretary Davi Howell said in the Commor last week.