Easier-to-fit Underider
5th December 1981
Page 11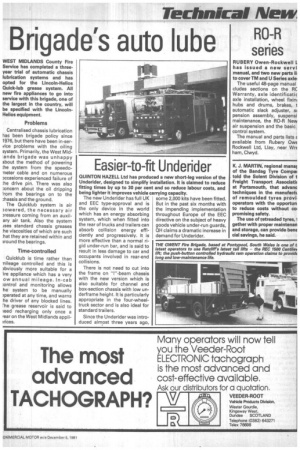 Page 11, 5th December 1981 —
Easier-to-fit Underider
Close
QUINTON HAZELL Ltd has produced a new short-leg version of the Underider, designed to simplify installation. It is claimed to reduce fitting times by up to 30 per cent and so reduce labour costs, and being lighter it improves vehicle carrying capacity.
The new Underider has full UK some 2,000 kits have been fitted.
and EEC type-approval and is the only device in the world which has an energy absorbing system, which when fitted into the rear of trucks and trailers can absorb collision energy efficiently and progressively. It is more effective than a normal rigid under-run bar, and is said to result in less damage to car and occupants involved in rear-end collisions.
There is not need to cut into the frame on "I"-beam chassis with the new version which is also suitable for channel and box-section chassis with low underframe height. It is particularly appropriate in the four-wheeltruck sector and is also ideal for standard trailers.
Since the Underider was introduced almost three years ago, But in the past six months with the impending implementation throughout Europe of the EEC directive on the subject of heavy goods vehicle under-run guards, QH claims a dramatic increase in demand for Underider.