Don doffs its prices for light van linings
5th December 1981
Page 10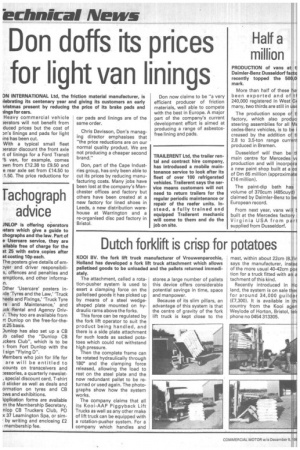 Page 10, 5th December 1981 —
Don doffs its prices for light van linings
Close
ON INTERNATIONAL Ltd, the friction material manufacturer, is tlebrating its centenary year and giving its customers an early iristmas present by reducing the price of its brake pads and lings for cars.
Heavy commercial vehicle car pads and linings are of the )erators will not benefit from same order.
duced prices but the cost of 3n's linings and pads for light ins has been cut.
With a typical small fleet )erator discount the front axle q of linings for a Ford Transit '5 van, for example, comes )wn from E12.38 to £9.50 and e rear axle set from £14.50 to 1.50. The price reductions for Chris Davisson, Don's managing director emphasises that "the price reductions are on our normal quality product. We are not producing a cheaper second brand."
Don, part of the Cape Industries group, has only been able to cut its prices by reducing manufacturing costs. Many jobs have been lost at the company's Manchester offices and factory but others have been created at a new factory for lined shoes in Leeds, a new distribution warehouse at Warrington and a re-organised disc pad factory in Bristol. Don now claims to be "a very efficient producer of friction materials, well able to compete with the best in Europe. A major part of the company's current development effort is aimed at producing a range of asbestosfree lining and pads.