Clearing the Way for Road Transport
5th December 1941
Page 25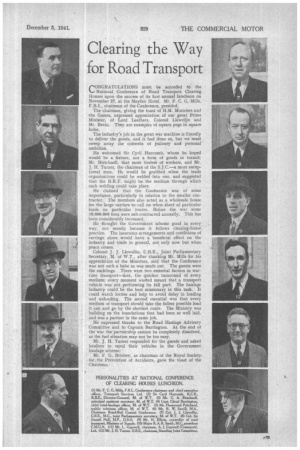 Page 25, 5th December 1941 —
Clearing the Way for Road Transport
Close
ONGRATULATIONS must be accorded to the National Conference of Road Transport Clearing Houses upon the success of its first annual luncheon on November 27, at the Mayfair Hotel. Mr. F. C. G. Mills, F.B.I., chairman of the Conference, presided, The chairman, giving the toast of H.M. Ministers and the Guests, expressed appreciation of our great Prime Minister, of Lord Leathers, Colonel Llewellin and Mr. Bevin. They are examples of square pegs in square holes.
The industry's job in the great war machine is literally to deliver the goods, and it had done so, but we must sweep away the cobwebs of jealousy and personal ambition.
He welcomed Sir Cyril Hurconib, whom he hoped would he a fixture, not a form of goods in transit; Mr. Birtchnell, that most tirele of workers, and Mr. J. H. Turner, the chairman of the SIC.—a most exceptional man. He would be gratified when the trade organizations could be welded into one, and suggested that the B.R.F. might be the medium through which such welding could take place.
He claimed that the Conference was of some importance, particularly in relation to the smaller contractor. The members also acted as a wholesale house for the large carriers to call on when short of particular loads on particular routes. Before the war sonic 10,000,000 tons were sub-contracted annually. This has been considerably increased.
He thought the Government scherhe good in every way, not merely because it follows clearing-house practice. The insurance arrangements and conditions of carriage alone would have a beneficial effect on the industry and trade in general, not only now but when peace comes.
Colonel J. J. Llewellin, C.13.E., Joint Parliamentary Secretary, M. •of W.T., after thanking Mr. Mills for his appreciation of the Ministers, said that the Conference was not such a babe as was made out. The guests were the sucklings. There were two essential factors in wartime transport—first, the quicker turnround of every medium; every moment wasted meant that a transport vehicle was not performing its full part. The haulage industry could be the best missionary in this task. It could watch lorries and help to avoid delay.in loading and unloading. The second essential was that every medium of transport should take the fullest possible load it can and go by the shortest route. The Ministry was building on the foundations that had been so well laid, and was a partner in the same job.
He expressed thanks to the Road Haulage Advisory Committee and to Captain Barrington. At the end of the war the-partnership cannot be completely dissolved, as the fuel situation may not be too easy.
Mr. J. H. Turner responded for the guests and asked hauliers to enrol their vehicles in the Government haulage scheme: Mr. F. G. Bristow, as chairman of the Royal Society, for the Prevention of Accidents, gave the toast of the Chairman.