HELPING THE CO-ORDINATION OF RATES
5th December 1941
Page 18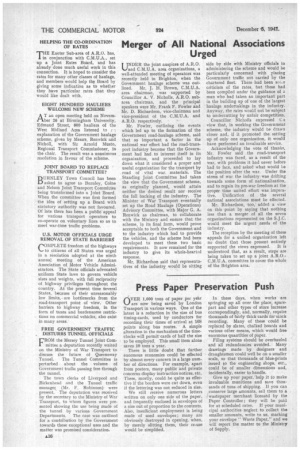 Page 18, 5th December 1941 —
HELPING THE CO-ORDINATION OF RATES
Close
'THE Exeter Sub-area of A.R.O. has, 1 in conjunction with C.M.U.A., set up a Joint Rates Board, and has already done much useful work in this connection. It is hoped to consider the rates for many other classes of haulage, and members would help the Board by giving some indication as to whether they have particular rates that they would like dealt with.
EIGHT HUNDRED HAULIERS WELCOME NEW SCHEME
AT an open meeting held on November 26 at Birmingham University, Edmund Street, 800 hauliers of the West Midland Area listened to explanation of the Government haulage scheme, given by Messrs. Renwick and Nicholl, with Sir Arnold Musto, Regional Transport Commissioner, in the chair. The result was a unanimous resolution in favour of the scheme.
JOINT BOARD TO REPLACE TRANSPORT COMMITTEE?
BURNLEY Town Council has been asked to agree to Burnley, Come and Nelson Joint Transport Committee being transformed into a Joint Board. When the committee was first formed the idea of setting up a Board with statutory authority was not favoured. Of late there has been a public appeal for various transport operators to co-operate on voluntary lines so as to meet war-time traffic problems.
U.S. MOTOR OFFICIALS URGE REMOVAL OF STATE BARRIERS
C0A1PLETE freedom of the highways to citizens of all States was urged in a resolution adopted at the ninth annual meeting of the American Association of Motor Vehicle Administrators. The State officials advocated uniform State laws to govern vehicle sizes and weights, with full reciprocity of highway privileges throughout the country. At the present time several States, because of their unreasonably low limits, are bottlenecks from the road-transport point of view. Other barriers to highway freedom, in the form of taxes and burdensome restrictions on commercial vehicles, also exist in many areas'.
FREE GOVERNMENT TRAFFIC DISTURBS TUNNEL OFFICIALS ROM the Mersey Tunnel Joint Com mittee a deputation recently waited on the Ministry of War Transport to discuss the future of Queensway Tunnel. The Tunnel Committee is perturbed about the volume of Government traffic passing free through the tunnel.
The town clerks of Liverpool and Birkenhead and the Tunuel traffic manager (Mr. F. Robinson) were present. The deputation was received by the secretary to the Ministry of War Transport, to whom figures were presented showing the use being made of the tunnel by various Government Departments. The case was outlined for a contribution by the Government towards these exceptional uses and the matter was promised consideration.