HERE'S ONE
5th December 1922
Page 3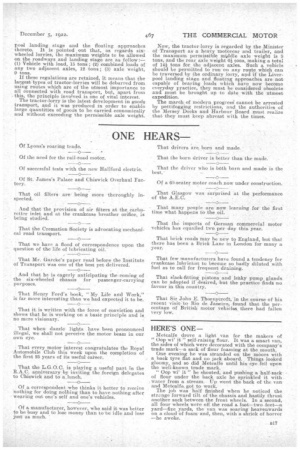 Page 3, 5th December 1922 —
HERE'S ONE
Close
Metcalfe drove a light van for the makers of " Oop wi' it" self-raising flour. It was a smart van, the sides of which were decorated with the company's trade mark—a sack of flour foaming at the mouth. One evening he was stranded on the moors with a back tyre flat and no jack aboard. Things looked gloomy, and so did Metcalfe until his eye fell upon the well-known trade mark.
" Oop wi it-" he shouted, and pushing a half-sack of flour under the back axle he sprinkled it with • water from a stream. Up went the back of the van and Metcalfe, got to work.
The job was half finished when he noticed the strange forward tilt of the chassis and hastily thrust another sack between the front wheels. In a second, all four wheels were oil the road a foot—two feet—a yard—five yards, the van was soaring heavenwards on a cloud of foam and, then, with .a shriek of horror —he awoke.