The Motor Omnibus World.
5th December 1907
Page 7
Page 8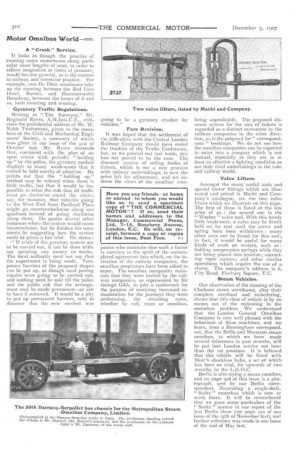 Page 9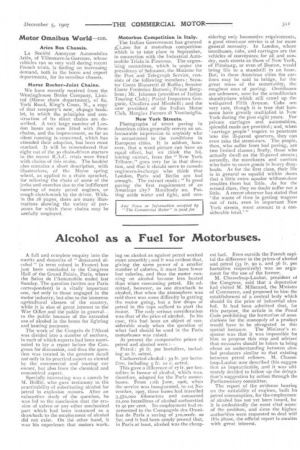 Page 7, 5th December 1907 —
The Motor Omnibus World.
Close
" The present rush of motor-omnibus flotations is to be regretted. It is certain to end in the disgust of investors, and genuine concerns will receive a setback."—The Commercial Motor, 23rd March, 1905.
Next Tuesday's Meeting.
A large muster of members and associate members is expected, at the institution of Mechanical Engineers, Storey's Gate, S.W., on Tuesday evening next, at 8 o'clock, when the Society of Road Traction Engineers will hold the second meeting of its third session. Copies of Mr. W. E. Hardy's paper are already in circulation, so that a healthy discussion may be expected, and we congratulate the Secretary, Mr. Charles E. Esse, upon his success in getting advance copies out in such good time. The title, " The management, organisation, and working cost of a public-service garage," is very comprehensive, and we have every confidence in saying that the paper will prove a classic in the literature of the movement. Mr. Hardy's practical experience has been brought to bear at every point of its compilation, and we would urge all who are interested to be present. Visitors' tickets may be had from the Secretary, on written application, to 1, Albermarle Street, W. False Inferences.
The ridiculous inferences which have been drawn from the lamentable total of 25 deaths, as the outcome of motoromnibus mishaps in the Metropolis, during the year 1906, continue in the daily Press. These cannot be too pointedly contradicted and controverted, and we call upon readers of this journal to support us in our arguments against them and the fallacies which underlie them. A great deal of harm can be done by the mere publication of a letter in a London or provincial newspaper, and the arguments of our brief leading article of last week provide the matter for an effective reply. Following upon these, we may cite the experiences of Liverpool and Bradford : others can be quoted if necessary.
At Liverpool, in the year 1901, which was the first year of complete electrification, there was one fatal accident per 11,250,000 passengers carried, compared with only one fatal accident per 30,523,632 passengers in 1906. At Bradford, where the statistics are differently kept, there were, in 1904, seven fatal accidents for a total mileage of 4,856,023, compared with, in 1906, two fatal accidents for a total mileage of 5,074,547. The motorbus figures for 1907 already show a similar tendency.
How fair-minded people can pay any heed to the garbled and splenetic attacks upon the motorbus -to-day, so far as they are based upon last year's records of fatalities in London, is beyond our understanding.
Road Car Returns.
The London Road Car Company, Limited, promises to have the best. half-. year's working of all London omnibus companies, and our weekly returns, which are compiled from the 1st January last, barely do justice to the cornpany's record since the 1st July. We have chosen, for the sake of uniformity, to compile our table of shares and traffics on a yearly basis, but we may very justly draw attention to the fact that the Road Car receipts show an advance of no less than ,..;17,000, during the past five months, compared with the corresponding period of 1906. Shareholders and others who have experience of the fleeting joys of a study of railway traffic returns, especially in connection with certain American and Canadian lines, will be anxious to see whether the increased revenue is synonymous with increased profits, as we hope will prove to be the case.
This company's method of choosing and working new routes appears to us to account largely for the change. A " Crush" Service.
It looks as though the practice of running extra motorbuses along particular short lengths of road, in order to relieve congestion at times of pressure, would become general, as is the custom in railway and street-car practice. For example, two De Dion omnibuses take up the running between the Red Lion Hotel Barnes, and Hammersmith Broadway, between the hours of 6 and to, both morning and evening.
Gyratory Traffic Regulations.
Writing in "The Surveyor," Mr. Reginald Ryves, A.M.Inst.C.E., criticises the presidential address of Mr. W. Noble Twelvetrees, given to the members of the Civil and Mechanical Engineers' Society, a summary of which was given in our issue of the 31st of October last. Mr. Ryves contends that, compared with the plan of an open circus with periodic " holding up"by the police, the gyratory method displays so many weaknesses that it cannot be held worthy of adoption. He points out that the " holding up" method may be relaxed when there is little traffic, but that it would be impossible to relax the rule that all traffic must go clockwise round the circle ; say, for instance, that vehicles going to the West End from Portland Place might go counter-clockwise along one quadrant instead of going clockwise along three. He quotes several other instances where the system would cause inconvenience, but he finishes his comments by suggesting how the system could be given a fair trial. He states : -" If trials of the gyratory system are to be carried out, it can be done without spending any money on works. The local authority need not say that the experiment is being made. Temporary barriers of the proposed shapes can be put up, as though local paving repairs were going to be carried out, and nothing need be said till the police and the public ask that the arrangement may be made permanent—or ask to have it removed. It would be a pity to put up permanent barriers, only to discover that the new method was
going to be a gyratory crusher for vehicles."
Fare Revision.
It was hoped that the settlement of the difficulties with the Central London Railway Company would have ended the troubles of the Traffic Conference, but, as we pointed out last week, this has not proved to he the case. The discount system of selling books of tickets, which is not a new practice with railway undertakings, is now the point left for adjustment, and we endorse the views of the omnibus coin panics who maintain that such a factor is contrary to the spirit of the contemplated agreement into which, on the invitation of the railway companies, the omnibus proprietors have been asked to enter. The omnibus companies maintain that they were invited by the railway companies, as represented by Sir George Gibb, to join a conference for the purpose of receiving increased remuneration for the journeys they were performing, the obtaining rates, whether by rail, train or omnibus, being unprofitable. The proposed discount system for the sale of tickets is regarded as a distinct movement by the railway companies in the other direction, as is the proposal for" correspondence " bookings. We do not see how the omnibus companies can be expected to enter into a compact which is not mutual, especially as they are in at least as effective a fighting condition as are their rival undertakings in the tube and railway world.
Valve Lifters.
Amongst fhe many useful tools and special motor fittings which are illustrated and priced in Markt and Company's catalogue, are the two valve lifters which we illustrate on this page. The first of these is listed at the low price of 4s. : the second one is the " Weeber "valve tool. With this handy little implement, a valve may be firmly held on its seat until the cotter and spring have been withdrawn : many other uses can be found for this tool ; in fact, it would be useful for many kinds of work on motors, such as : holding compression springs while they are being placed into position ; extracting taper cotters ; and other similar operations which require the use of a clamp. The company's address is 6, City Road, Finc;hury Square, E.C.
Steam Vehicles.
Our observation of the running of the Clarkson steam omnibuses, after their complete overhaul and re-boilering, shows that this class of vehicle is by no means out of the reckoning in the motorbus problem. We understand that the London General Omnibus Company is very well pleased with the behaviour of these machines, and we learn, from a Birmingham correspondent, that the Bellis and Morecom steam omnibus, to which we have made several references in past months, will be put into London service not later than the 1st proximo. It is believed that this vehicle will be fitted with Muir's shockless hubs, a set of which has been on trial, for upwards of two months, by the L.G.O.C.
Berlin is also trying a steam omnibus, and on page 308 of this issue is a photograph, sent by our Berlin correspondent, illustrating a single-deck, " Stoltz " motorbus which is now at work there. It will be remembered that we gave some particulars of the " Stoltz " system in our report of the last Berlin show (see page 220 of our issue of the 15th of November last), and further reference was made in our issue of the 2nd of May last.
La Socike Anonyme Automobiles Aries, of Villeneuve-la-Garenne, whose vehicles ran so very well during recent French trials, is finding an increasing demand, both in the home and export departments, for its omnibus chassis.
Morse Rocker-Joint Chains.
We have recently received from the Westinghouse Brake Company, Limited (Morse chain department), of 82, York Road, King's Cross, N., a copy of that company's new, 28-page booklet, in which the principles and construction of its silent chains are described. A very large number of London buses are now fitted with these chains, and the improvement, so far as silent running is concerned, which has attended their adoption, has been most marked. It will be remembered that eight out of the 30 chain-driven starters in the recent R.A.C. trials were fitted with chains of this make. The booklet also contains a short description, with illustrations, of the Morse spring wheel, as applied to a chain sprocket, for relieving the chain of some of the
• jerks and snatches due to the indifferent running of many petrol engines, or rough clutch-work by the driver. Within the 28 pages, there are many illustrations showing the variety of purposes for which these chains may be usefully employed.
Motorbus Competition in Italy.
The Italian Government has granted 4.1,200 for a motorbus competition which is to take place in September, in connection with the Industrial Automobile Trials in Piacenza. The organising committee, which is under the presidency of Schauzer, the Minister for the Post and Telegraph Service, consists of the following members : Senator Conte Biscaretti di Ruffia ; Senator Conte Frederic° Bottoni ; Prince Borghese ; Mr. Johnson (president of Italian Touring Club); Postal Inspectors Gregorie, Civallera and Mirabelli; and the new president of the Italian Motor Club, Margius Ferrero di Ventimiglia.
New York Streets.
Photographs of street paving in American cities generally convey an unfavourable impression to anybody who is accustomed to the conditions in European cities. It is seldom, however, that a word picture can have an equal effect, but we think the fol. lowing extract, from the " New York Tribune," goes very far in that direction, and that it should serve to console engineers-in-charge who think that London, Paris and Berlin are bad enough. The extract reads : " Is good paving the first requirement of an American city? Manifestly no. Putting aside water and light, and con sidering only locomotive requirements, a good street-car service is of far more general necessity. In London, where omnibuses, cabs, and carriages are the vehicles of conveyance for all and sundry, such streets as those of New York, of Pittsburg, or even of Boston, would bring life to a standstill in an hour. But, in these American cities the carlines may be said to bridge, for the great mass of the community, the roughest seas of paving. Omnibuses are unknown, save for the aotediluvian slaandrydans which still crawl up the well-paved Fifth Avenue. Cabs are very rare, though it is true that hansoms have greatly multiplied in New York during the past eight years. For private carriages and automobiles, splendid roads are provided ; and, when carriage people ' require to penetrate into the ill-paved quarters, they can even take the street-cars. The people, then, who suffer from bad paving, are two limited classes ; firstly, those who actually dwell on the ill-paved streets ; secondly, the merchants and carriers who have to move goods in heavy drayloads. As for the first class, their life is in general so squalid within doors that a little extra squalor without-door troubles them but little. As for the second class, they no doubt suffer not a little. A recent observer has stated that 'the waste of time in getting wagons out of ruts, even in important New York streets, must amount to a considerable total.' "
Tags
People
:
Mirabelli
,
W. Noble Twelvetrees
,
W. E. Hardy
,
Prince
,
Reginald Ryves
,
Civallera
,
Charles E. Esse
,
Conte Biscaretti di Ruffia
,
Schauzer
,
Johnson
,
Borghese
,
George Gibb
,
Postal Inspectors Gregorie
,
Conte Frederic