From Our Berlin Correspondent.
5th December 1907
Page 6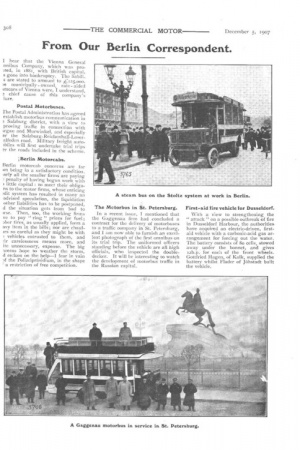 Page 6, 5th December 1907 —
From Our Berlin Correspondent.
Close
I hear that the Vienna General nnibus Company, which was pro)ted, in 1881, with British capital, s gone into bankruptcy. The liabili_ s are stated to amount to j:125,000. IC municipally owned, rateaided imcars of Vienna were, I understand,
chief cause of this company's lure.
Postal Motorbuses.
rhe Postal Administration has agreed establish motorbus communication in Salzburg district, with a view to proving traffic in connection with irgau and Murwinkel, and especially er the Salzburg-Reichenhall-Loseralfede.n road. Military freight auto)biles will first undertake trial trips Cr the roads included in the scheme.
Berlin Motorcabs.
Berlin motorcab concerns are far rn being in a satisfactory condition. ,a.rly all the smaller firms are paying penally of having begun work with ) little capital : to meet their obligarts to the motor firms, whose enticing :dit system has resulted in many an advised speculation, the liquidation other liabilities has to be postponed, a the situation gets from bad to prse. Then, too, the working firms ve to pay " ring " prices for fuel; Dber tires, as usually applied, form a avy item in the bills; nor are chaufirs so careful as they might be with vehicles entrusted to them, and ir carelessness means more, and ite unnecessary, expense. The big -teems hope to weather the storm, d reckon on the help-1 fear in vain 3f the Polizeipritsidium, in the shape
a restriction of free competition. The Motorbus in St. Petersburg.
In a recent issue, I mentioned that the Gagg-enau firm had concluded a contract for the delivery of motorbuses to a traffic company in St. Petersburg, and I am now able to furnish an excellent photograph of the first omnibus on its trial trip. The uniformed officers standing before the vehicle are all high officials, who inspected the doubledecker. It will be interesting to watch the development of motorbus traffic in the Russian capital.
First-aid fire vehicle for Dusseldorf.
With a view to strengthening the "attack "on a possible outbreak of fire in Dusseldorf Harbour, the authorities have acquired an electric-driven, firstaid vehicle with a carbonic-acid gas arrangement for forcing out the water. The battery consists of So cells, stowed away . under the bonnet, and gives tzh.p. for each of the front wheels. Gottfried Hagen, of Kalk, supplied the battery whilst Hader of Johstadt built the vehicle.