Pallet Trailer or Fork Truck
5th August 1955
Page 69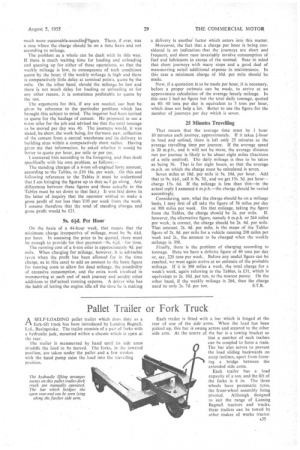 Page 69, 5th August 1955 —
Pallet Trailer or Fork Truck
Close
L-1 A SELF-LOADING pallet trailer which does duty as a.
fork-lift truck has been introduced by Lansing Bagnall, Ltd., Basingstoke. The trailer consists of a pair of forks vi,ith a hydraulic jack, mounted within a chassis which is open at the rear.
The trailer is manceuvred by hand until its side arms straddle the load to be moved. The forks, in the lowered position, are taken under the pallet and a few strokes with the hand pump raise the load into the travelling position. Each trailer is fitted with a bar which is hinged at the rear of one of the side arms. When the load has been picked up, this bar is swung across and secured to the other side arm. At the centre of the bar is a towing bracket so that a number of such trailers can be coupled to form a train. The bar also serves to prevent the load sliding backwards on steep inclines, apart from forming a bridge between the extended side. arms.
Each trailer has a load capacity of a ton, and the lift of the forks is 6 in. The three wheels have pneumatic tyres, the front-wheel assembly being pivoted. Although designed to suit the range of Lansing Bagnall tractors and trucks, these trailers can be towed by other makes of works tractor.