Useful Combination Tool Set
5th August 1955
Page 54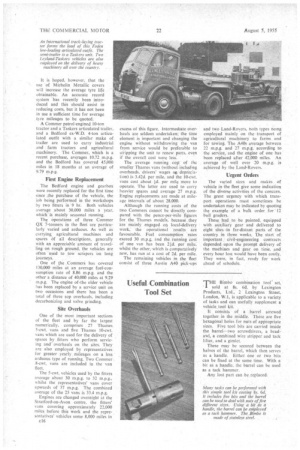 Page 54, 5th August 1955 —
Useful Combination Tool Set
Close
THE Bimbo combination tool' set, • sold at 8s. 6d. by Lexington Products, Ltd., 2 Lexington Street, London, W.1, is applicable to a variety of tasks and can usefully supplement a' vehicle tool kit.
It consists of a barrel screwed together in the middle. There are five hexagonal holes for nuts of apPropriate sizes. Five tool bits are carried inside the barrel—two screwdrivers, a bradawl, a combined wire stripper and tack lifter, and a gimlet.
These may be secured between the halves of the barrel, which then serves as a handle. Either one or two bits can be fixed at the same time. With a bit as a handle. the barrel can be used as a tack hammer.
Any lost part can be replaced.