20 Tons at 1 Ed. a Mile
5th August 1955
Page 53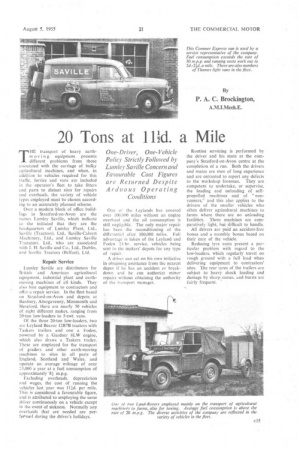 Page 54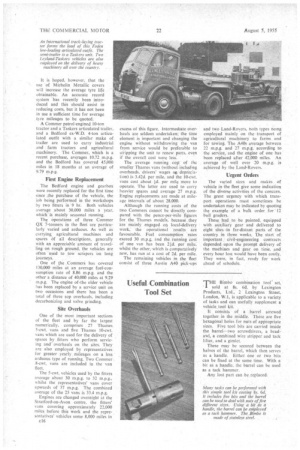 Page 53, 5th August 1955 —
20 Tons at 1 Ed. a Mile
Close
One-Driver, One-Vehicle Policy Strictly Followed by Lumley Saville Concern and Favourable Cost Figures are Returned Despite Arduous Operating Conditions
By
P. A. C. Brockington, THE transport of heavy earthm oving equipment presents different problems from those associated with the carriage of bulky agricultural machines, and when, in addition to vehicles required for this traffic, lorries and vans are included in the operator's fleet to take titters and parts to distant sites for repairs and overhauls, the variety of vehicle types employed must be chosen according to an accurately planned scheme.
Over a modern block of office buildings in Stratford-on-Avon are the names Lumley Saville, which indicate to the initiated that they are the headquarters of Lumley Plant, Ltd., Saville (Tractors), Ltd., Saville-Calvert Machinery, . Ltd., and Lumley Saville Transport, Ltd., who arc associated wills J. H. Saville and Co., Ltd., Dublin, and Saville Tractors (Belfast), Ltd.
Repair Service
Lumley Saville are distributors for British and American agricultural equipment, industrial plant and earthmoving machines of all kinds. They. also hire equipment to contractors and offer a repair service. In the fleet based on Stratford-on-Avon and depots at Banbury, Abergavenny, Monmouth and 'Hereford, there are nearly 50 vehicles of eight different makes, ranging from 20-ton low-loaders to 5-cwt. vans.
Of the three 20-ton low-loaders, two arc Leyland Beaver 12B7B tractors with Taskers trailers and one a Foden, powered by a Gardner 6LW engine. which also draws a Taskers trailer, These are employed for the transport of graders and other earth-moving machines to sites in all parts of England, ' Scotland and :.Wales, and operate an average: Mileage of over 25,000 a year at a fuet consumption of approxiinately--8L. m.p.g.
Excluding overheads, depreciation and wages, the cost of running the vehicles last year was 111d. per mile. This is considered a favourable figure, and is attributed to employing the same driver continuously on a vehicle except in the event of -sickness. Normally any overhauls that areneeded are performed during the driver's holidays. One of the . Leylands has covered over 100,000 miles without an engine overhaul and the oil consumption is still negligible. The only major repair has been the reconditioning of the differential after 100,000 miles. Full advantage is taken of the Leyland and Foden 24-hr. service, vehicles being sent to the makers' depots for any type of repair.
A driver can act on his own initiative in obtaining assistance from the nearest depot if he has an accident or breakdown and he can authorize minor repairs without obtaining the authority of the transport manager.
Routine servicing is performed by the driver and his mate at the company's Stratford-on-Avon centre at the completion of a run. Both the drivers and mates are men of long experience and are entrusted to report any defects to the workshop foreman. They are competent to undertake, or supervise, the loading and unloading of selfpropelled machines and of "nonrunners," and this also applies to the drivers of the smaller vehicles who oftcn deliver agricultural machines to farms where there are no unloading facilities. These machines are comparatively light, but difficult to handle.
All drivers arc paid an accident-free bonus and a monthly bonus based on their care of the vehicle.
Reducing tyre costs present a particular problem with regard to the low-loaders, which regularly travel on rough ground with a full load when delivering equipment to contractors' sites. The rear tyres of the trailers are subject to heavy shock loading and damage by sharp stones, and bursts are fairly frequent. It is hoped. however, that the use of Michelin Metallic covers will increase the average tyre life obtainable. An accurate record system has recently been introduced and this should assist in reducing costs, but it has not been in use a sufficient time for average tyre mileages to be quoted.
A Commer petrol-engined 10-ton tractor and a Taskers articulated trailer, and a Bedford ex-W.D. 4-ton articulated outfit with a similar make of trailer are used to carry industrial and farm tractors and agricultural machinery. The Commer, which is a recent purchase, averages 10.72 m.p.g. and the Bedford has covered 45,000 miles in 18 months at an average of 9.79 m.p.g.
First Engine Replacement
The Bedford engine and gearbox were recently replaced for the first time since the purchase of the vehicle, the job being performed in the workshops by two fitters in 9 hr. Both vehicles average about 30,000 miles a year, which is mainly seasonal running.
The operations of three Commer OX 7-tonners in the fleet are particulady' varied and arduous. As well as carrying\ agricultural machines and spares of all descriptions, generally with an appreciable amount of travelling on rough ground, the vehicles are often used to tow scrapers on long journeys.
One of the Commeri has covered 130,000 miles at an average fuel-consumption rate of 8.86 m.p.g. and the other a distance of 40,000 miles at 9.29 m.p.g. The engine of.the older vehicle has been replaced by a service unit on two occasions and there has been a total of three top overhauls, including decarbonizing and valve grinding.
Site Overhauls
One of the most important sections of the fleet and by far the largest numerically, comprises 27 Thames 5-cwt. vans and five Thames 10-cwt. vans which are used for the delivery of spares by fitters who perform servicing and overhauls on the sites. They are also employed by representatives for greater yearly mileages on a less arduous type of running. Two Commer 8-cwt, vans are included in the van fleet.
The 5-cwt. vehicles used by the fitters average about 30 m.p.g. to 32 m.p.g., whilst the representatives' vans cover upwards of 37 m.p.g. The combined average of the 25 vans is 33.4 m.p.g.
Engines are changed overnight at the Stratford-on-Avon centre, the fitters' vans covering approximately 22,000 miles before this work and the representatives' vehicles some 8,000 miles in c16 excess of this figure. Intermediate overhauls are seldom undertaken; the time element is important and changing the engine without withdrawing the van from service would be preferable to stripping the unit to renew parts, even if the overall cost were less. •
The average running colt of the smaller Thames vans (without including overheads, drivers' wages Qf depreciation) is 3.42d. per mile, and the 10-cwt. vans cost about id. per mile more to operate. The latter are used to carry heavier spares and average 27 m.p.g. Engine replacements are made at mileace intervals of about 28,000.
Although the running costs of the two Commers cannot be directly compared with the pence-per-Mile figures for the Thames models, because they are mainly engaged. on local-delivery work, 'the operational results are favourable. Fuel consumption rates exceed 30 m.p.g. and the running cost of one van has been 2Id. per' mile, whilst the other,-which is comparatively new, has run at a cost of 2d. per mile.
The remaining vehicles in the fleet consist of three Austin A40 pick-ups and two Land-Rovers, both types being employed mainly on the transport of agricultural machinery to farms and for towing. The A40s average between 22 m.p.g. and 27 m.p.g. according to the service, and the engine of one has been replaced after 42,000 miles. An average of well over 20 m.p.g. is achieved by the Land-Rovers.
Urgent Orders
The varied sizes and makes of vehicle in the fleet give some indication of the diverse activities of the concern. The great urgency with which transport operations must sometimes be undertaken may be indicated by quoting the example of a bulk order for '12 bull graders.
These had to be painted, equipped with auxiliary gear and delivered to eight sites in far-distant parts of the country in three weeks. The start of important civil-engineering contracts depended upon the prompt delivery of the machines and gear on time, and every hour lost would have been costly. They were, in fact, ready for work ahead of schedule.