59 More Trunk Road Works E'IFTY-NINE more works on trunk
5th August 1955
Page 42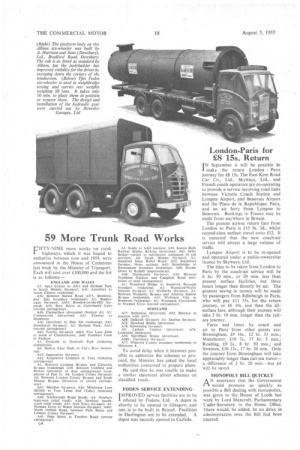 Page 43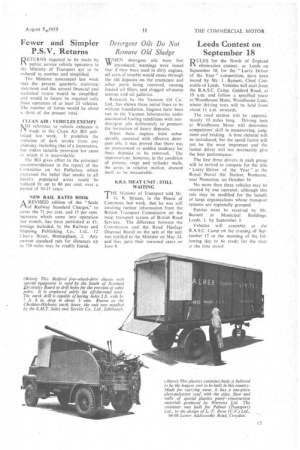 Page 42, 5th August 1955 —
59 More Trunk Road Works E'IFTY-NINE more works on trunk
Close
I highways, which it was hoped to authorize between now and 1959, were announced in the House of Commons last week by the Minister Of Transport. Each will cost over £100,000 and the list
is as • ENGLAND AND WALES Al: Apex Corner-to A4I1 and Dyrham Park to South Mimms (by-pass); A41: Aylesbury to Anon Clinton (widening). . A56' Between Barton Road A575, Stretford. and . Sale boundary (widening); Al: BiggIeswade (by-pass); A453: Breedon•onnhe-Hill (by-' pas*: A10: Bury Street to Carterhatch Lane (second carriagewaY). •• A48: .Carmarthen (diversion) (Section A); Al: Colsterworth (diversion); A23: Crawley to Handcross. , A56: Daresbury to Ship inn (widening); A4$: Dunehurch (by-pass); Al: Dyrham Park, A411 (second carriageway).
A63: Ferriby (by-pass); A6,14: Five Lane Ends to north of Checkerhouse; A48: Flambert Farm to Penhow.
Al; Gosforth to Gosforth Park (widening completion).
A6: Hutton Lane Ends to Cat's Row ins).
Al2: Ingatestone (by-pass).
A4I: Kingswood Common to Tong (widening carriageway).
Al; Between Lceming By-pass and Caned& By-pass (widening); A38; Between Lichfield and Burton (provision of dual carriageways) (completion of Part 1); Ad: London Colney (by-pass); A6; Between London Colney By-pass and South Minnits By-pass (provision of second carriageway).
A45: Meriden (by-pass); A34: Milehouse Lane (35358) to Four Lanes End (Talke) (widening carriageway).
A46; Narborough Road South; A4: Newbury (east-west relief road); A34: Newbury (northsouth relief road); A9I: New Ferry (by-pass); Al: Norman Cross to Water Newton (by-Pass); A405: North Orbital Road, between Park Street and London Co/ney (by-pass).
A4I: Page Sweet to Finchley Road (second carriageway).
Al: Sandy to A928 junction; A19: Seaton Bank Railway Bridge, Ryhope (diversion); A63: Selby Bridge—subject to satisfactory settlement of toll question; A6: South MilTIMS (by-pass); Al: Stamford Inner Relief Road; A52: Stapleford (by-Pass. Notts section); A45: Stonebridge to Birmingham boundary (widening); A48: Stormy Down to Redhill (improvement).
A46; Thurrnaston (by-pass); A34; Between Trentham Gardens and Campbell Road (provision of dual carriageways).
Al: Wan.sford Bridge to Stamford Borough boundary (widening); Al: Wansford-Water Newton (by-pass); Al: Wetherby (by-pass); Al: Between Weihesby By-pass and Allerton Station By-pass (widening); A52; Wollaton Vale to Bramicote (widening); Al: Woolpack Cross-roads to Norman Cross (second carriageway).
SCOTLAND A77: Ballantrae (diversion); A92: Blairton to junction with A975. A68: Dalkeith (by-pass); Al: Dunbar (by-pass).
A76: Howford Bridge (diversion).
A78: Kilwinning (by-pass). • -A5; Urban Viaduct (diversion); A74: Lockerbie (diversion). •
A96: Sh.eriffrnill Bridge (diversion). A985: Torryburn (by-pass).
• A77: Wigtown County boundary northwards to Milestone S.
To avoid delay when it becomes possible to authorize the schemes to proceed, the Minister has asked the local authorities concerned to prepare plans.
He said that he was unable to make a similar statement about schemes on classified roads.
FODEN SERVICE EXTENDING, iMPROVED service facilities are to be
offered by Fodens, Ltd. A depot is shortly to be opened in Glasgow, and one is to be built in Bristol, Facilities in Darlington are to be extended. A depot was recently opened in Carlisle.
London-Paris 'for £8 15s. Return
TN September it will be possible to I make the return London Paris journey for £8 15s. The East Kent Road Car Co., Ltd., Skyways, Ltd., and French coach operators are co-operating to provide a service involving road links • between Victoria Coach Station and • Lympne Airport, and Beauvais Airport and the Place de la Republique, Paris, and an air ferry from Lympne to Beauvais. Bookings to France may be made from anywhere in Britain.
The present airway return fare from London to Paris is £15 9s. 3d., whilst second-class surface travel costs £12. It is expected that the new coach-air service will attract a large volume of traffic.
Lympne Airport is to be re-opened and operated under a public-ownershiplicence by Skyways, Ltd.
The time to be taken from London to Paris by the coach-air service will be 6 hr. 50 min,, or 20 min. less than present surface facilities, but three hours longer than directly by air. The greatest saving in money will be made by passengers from Edinburgh to Paris, who will pay il 1 15s. for the return journey, or £6 10s. less than the allsurface fare, although their journey, will take 2 hr. 10 min. longer than the railsea journey.
Fares and times by coach and air to Paris from other points are: Birmingham, £9 16s., 12 hr. 35 min.; Manchester, £10 7s., 17 hr. 5 mm.; Reading, £9 2s., 8 hr. 50 min.; and Swansea, £10 12s., 17 hr. 20 min. Only the journey from Birmingham will take appreciably longer than rail-sea travel— a difference of 2 hr. 20 min.—but £4 will be saved.
MONOPOLY BILL QUICKLY
AN assurance that the Government would promote as quickly as possible a Bill dealing with monopolies, was given to the House of' Lords last week by Lord Mancroft, Parliamentary Under-Secretary to the Home Office.. There would, he added, be no delay in administration once the Bill had been -enacted.
Fewer and Simpler P.S.V. Returns
RETURNS required to be made Is; N. public. service .vehicle operators to the Ministry of Transport are to he reduced in number and simplified. .
The Minister announced last week that the present quarterly statistical statement and the annual financial and statistical return would be simplified. and would in future be required only from operators of at least 25 vehicles. The number of forms would be about a third of the present total,
CLEANAIR VEHICLES EXEMPT
NO reference to vehicle exhausts is made in the Clean Air Bill published last week, it prohibits the emission of dark smoke from any chimney, including that of a locomotive, but makes suitable provision for cases in which it is unavoidable.
The Bill gives effect to the principal recommendations in the report of the Committee on Air Pollution, which expressed the belief that smoke in all heavily populated areas could be reduced by up to 80 per cent, over a period of 10-15 years.
NEW RAIL RATES BOOK
A REVISED edition of the "Scale .t-1of Railway Standard Charges," to cover the 71 per cent. and 15 per cent. increases which came into operation last month, has been published at El, postage included, by the Railway and Shipping Publishing Co., Ltd., 12 Cherry Street, Birmingham. 2. Any current standard rate for distances up to 730 miles may he readily found.
Detergent Oils Do Not Remove Old Sludge
wHEN detergent oils were first VT introduced, warnings were issued that if they were used in dirty engines, all sorts of trouble would ensue through the old deposits on the crankcase and other parts being removed, causing loaded oil filters and clogged oil-pump screens and oil galleries.
Research by the Vacuum Oil Co.. Ltd.. has shown these initial fears to be without foundation. Engines have been run in the Vacuum laboratories under accelerated fouling conditions with non detergent oils deliberately to promote the formation of heavy deposits.
When these engines were subsequently operated with effective deter, gent oils, it was proved that there was no pronounced or sudden tendency for these deposits to be removed. The improvement, however, in the condition of pistons, rings and cylinder walls. the areas in relative motion, showed itself to be measurable.
B.R.S. MEAT UNIT: STILL WAITING
TIHE Minister of Transport told Mr. G. R. Strauss, in the House of Commons last week, that he was still awaiting further information from the British Transport Commission on the meat transport system of British Road Services. The difference between the Commission and the Road Haulage Disposal Board on the sale of the unit was notified to the Minister on May 24, and they gave their reasoned cases on June 8.
Leeds Contest on September 18
RU LES for the North of England elimination contest, at Leeds on September 18, for the "Lorry Driver of the Year" competition, have been issued by Mr. 3. Barnett, Chief Constable of Leeds. Vehicles will start from the R.A.S.C. Camp, Gelderd Road, at 10 a.m. and follow a specified route to Woodhouse Moor, Woodhouse Lane, where driving tests will be held from about 11 a.m. onwards.
The road section will be approximately 10 miles long. Driving tests at Woodhouse Moor will determine competitors' skill in manoeuvring, judgment and braking. A time element will be introduced, but the speed. factor will not be the most important and the fastest driver will not necessarily give the best performance.
The first three drivers in each group will be invited to compete for the title "Lorry Driver of the Year" at the Royal Naval Air Station, Braincote. near Nuneaton, on October 16.
No more than three vehicles may be entered by one operator, although this rule may be modified for the benefit of large organizations whose transport systems are regionally grouped.
Entries must be received by Mr. Barnett at Municipal Buildings-. Leeds, 1, by September 3.
Vehicles will assemble at the R.A.S.C. Camp on the evening of September 17 or the morning of the following day to he ready for the start at the time stated
Tags
Locations
:
Manchester
,
Stonebridge
,
Leeds
,
Glasgow
,
Reading
,
London
,
Birmingham
,
Bristol
,
Edinburgh
,
Stamford Borough
,
Paris