One Hears
5th August 1955
Page 31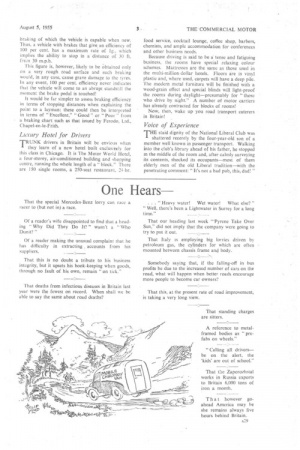 Page 31, 5th August 1955 —
One Hears
Close
That the special Mercedes-Benz lorry can race a racer to (but not in) a race.
Of a reader's wife disappointed to find that a heading "Why Did They Do It?" wasn't a "Who Dunn? "
Of a reader making the unusual complaint that he has difficulty in extracting , accounts from his suppliers.
That this is no doubt a tribute to his business integrity, but it upsets his book-keeping when goods, through no fault of his own, remain "on tick."
That deaths from infectious diseases in Britain last year were the fewest on record. When shall we be able to say the same about road deaths? . "Heavy water! Wet water! What else? " "Well, there's been a Lightwater in Surrey for a long time."
That our heading last week "Pyrene Take Over Sun," did not imply that the company were going to try to put it out.
That Italy is employing big lorries driven by petroleum gas, the cylinders for which are often mounted between chassis frame and body.
Somebody saying that, if the falling-off in bus profits be due to the increased number of cars on the road, what will happen when better roads encourage more people to become car owners?
That this, at the present rate of road improvement, is taking a very long view.
That standing charges are sitters.
A reference to metalframed bodies as "prefabs on wheels."
Calling all drivers— be on the alert, the 'kids' are out of school."
That the Zafxxozhstal works in Russia exports to Britain 6,000 tons of iron a month.
Tit a t however goahead America may be she remains always five hours behind Britain.