. THE WAR—A YEAR AGO.
5th August 1915
Page 2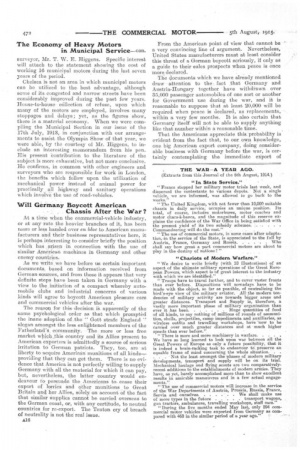 Page 2, 5th August 1915 —
. THE WAR—A YEAR AGO.
Close
(Extracts from this Journal of the 6th August, 1914.)
"In State Service." •
"France stopped her military motor trials last week, and dispersed the contestants to various depots. Not a single vehicle, we are informed, was allowed to go back to the works."
"The T7nited Kingdom, with not fewer than 10,000 suitable chassis in daily service, occupies an unique position. Its total, of course, includes motorbuses, motor coaches and motor chars-a-bancs, and the magnitude of this reserve explains the confidence of the War Office in being satisfied with the present yield of its two subsidy schemes Commandeering will do the rest." 'The use of commercial motors, in some eases 'after adaptation,.in the service of the State, is appreciated to the full by Austria, France, Germany and Russia Who shall say how great a part commercial motors are about to play in the destiny of nations? "
"Chariots of Modern Warfare."
" We desire to write briefly (with 18 illustrations) of an aspect of the ultimate military operations of the Great European Powers, which aspect is of great interest to the industry with which we are identified."
"Troops have to travel further, and to cover vaster fronts than ever before. Dispositions will nowadays have to be made with the object, so far as posaible, of neutralizing the bird's-eye view of the military aviator. All•the modern tendencies of military activity are towards. bigger' areas and greater distances. Transport and Supply is, therefore, a vastly more important phase of military organization than
ever it has been Huge quantities of food of all kinds, to say nothing of millions of rounds of ammunition' shells, projectiles, camp impedimenta and auxiliaries, as wireless outfits and travelling workshops, have now to be carried over much greater distances and at much higher speeds than ever before."
" There is more and more machinery in warfare We have so long learned to look upon war between all the Great Powers of Europe as only a future possibility, that it is indeed a brain-racking task to endeavour to preserve an equable frame of mind concerning the whole situation. . . • Not the least amongst the phases of modern military developments, transport and supply will be on its trial. Mechanical haulage and flying scouts are two comparativelYrecent additions to the establishments of modern armies. They have, as yet, barely accomplished more than to show excellent results in amicable manoeuvres and in a few actual engagements."
"The use of commercial motors will inerease in the service of the War Departments of Austria, Prussia, Russia, France, Servia and ourselves We shall make use of more types in the future . transport wagons, gun tractors, ambulances, travelling workshops, staff cars." "During the five months ended May last, only 294 commercial motor vehicles were exported from Germany as compared with 468 in the similar period of a year ago."