Waterworth gives warning to Magicbus
5th April 1990
Page 20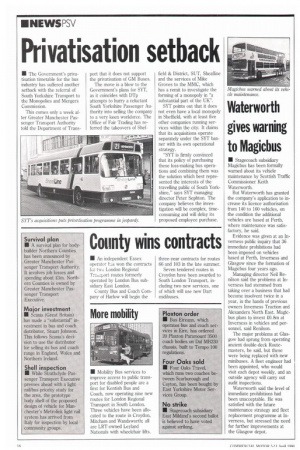 Page 20, 5th April 1990 —
Waterworth gives warning to Magicbus
Close
• Stagecoach subsidiary Magicbus has been formally warned about its vehicle maintenance by Scottish Traffic Commissioner Keith Waterworth.
But Waterworth has granted the company's application to increase its licence authorisation from 140 to 160 vehicles, on the condition the additional vehicles are based at Perth, where maintenance was satisfactory, he said.
Evidence was given at an Inverness public inquiry that 36 immediate prohibitions had been imposed on vehicles based at Perth, Inverness and Glasgow since the formation of Magicbus four years ago.
Managing director Neil Renilson said the problems at Inverness had stemmed from taking over a business that had become insolvent twice in a year, in the hands of previous owners Inverness Traction and Alexanders North East. Magicbus plans to invest RA 3m at Inverness in vehicles and personnel, said Renilson.
The major problems at Glasgow had sprung from operating ancient double-deck Routemasters, he said, but these were being replaced with new minibuses. A fleet engineer had been appointed, who would visit each depot weekly, and an outside agency will carry out audit inspections.
Waterworth said the level of immediate prohibitions had been unacceptable. He was satisfied with the future maintenance strategy and fleet replacement programme at Inverness, but stressed the need for further improvements at the Glasgow depot.