Parcels driver loses compensation claim
4th September 2008
Page 9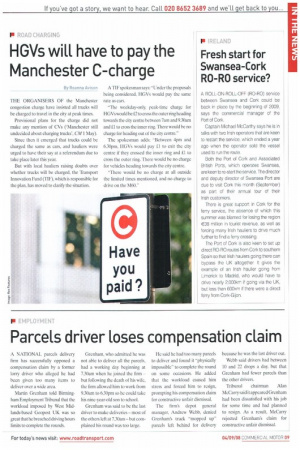 Page 9, 4th September 2008 —
Parcels driver loses compensation claim
Close
A NATIONAL parcels delivery firm has successfully opposed a compensation claim by a former lorry driver who alleged he had been given too many items to deliver over a wide area.
Martin Grenham told Birmingham Employment Tribunal that the workload imposed by West Midlands-based Geopost UK was so great that he breached driving hours limits to complete the rounds. Grenham, who admitted he was not able to deliver all the parcels, had a working day beginning at 7.30am when he joined the firm — but following the death of his wife, the firm allowed him to work from 9.30am to 6.30pm so he could take his nine-year-old son to school.
Grenham was said to be the last driver to make deliveries — most of the others left at 7.30am— but complained his round was too large. He said he had too many parcels to deliver and found it "physically impossible" to complete the round on some occasions. He added that the workload caused him stress and forced him to resign, prompting his compensation claim for constructive unfair dismissal.
The firm's depot general manager, Andrew Webb, denied Grenham's truck "mopped up" parcels left behind for delivery because he was the last driver out.
Webb said drivers had between 10 and 22 drops a day, but that Grenham had fewer parcels than the other drivers.
'Tribunal chairman Alan McCarry said it appeared Grenham had been dissatisfied with his job for some time and had planned to resign. As a result, McCarry rejected Grenham's claim for constructive unfair dismissal.