Foreign drivers in the UK run empty half the time
4th September 2008
Page 8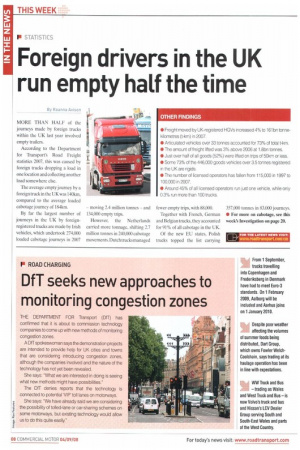 Page 8, 4th September 2008 —
Foreign drivers in the UK run empty half the time
Close
By Roanna Avison MORE THAN HALF of the journeys made by foreign trucks within the UK last year involved empty trailers.
According to the Department for Transport's Road Freight statistics 2007, this was caused by foreign trucks dropping a load in one location and collecting another load somewhere else.
The average empty journey by a foreign truck in the UK was 140km, compared to the average loaded cabotage journey of 184km.
By far the largest number of journeys in the UK by foreignregistered trucks are made by Irish vehicles, which undertook 274,000 loaded cabotage journeys in 2007 moving 2.4 million tonnes and 134,000 empty trips.
However, the Netherlands carried more tonnage, shifting 2.7 million tonnes in 240,000 cabotage movements. Dutch trucksmanaged fewer empty trips, with 88,000.
Together with French. German and Belgian trucks, they accounted for 91°/0 of all cabotage in the UK.
Of the new EU states, Polish trucks topped the list carrying 357,000 tonnes in 83,000 journeys.
• For more on cabotage, see this week's Investigation on page 20.