Only the best will do for van buyers
4th September 2008
Page 52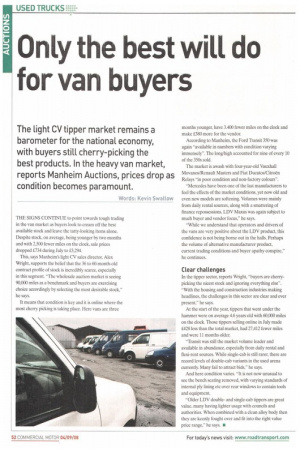 Page 52, 4th September 2008 —
Only the best will do for van buyers
Close
The light CV tipper market remains a barometer for the national economy, with buyers still cherry-picking the best products. In the heavy van market, reports Manheim Auctions, prices drop as condition becomes paramount.
Words; Kevin Swallow THE SIGNS CONTINUE to point towards tough trading in the van market as buyers look to cream off the best available stock and leave the tatty-looking items alone. Despite stock, on average, being younger by two months and with 2,500 fewer miles on the clock, sale prices dropped £734 during July to £3,294.
This, says Manheim's light CV sales director, Alex Wright, supports the belief that the 36 to 60-month-old contract profile of stock is incredibly scarce., especially in this segment. "The wholesale auction market is seeing 90,000 miles as a benchmark and buyers are exercising choice accordingly by selecting the most desirable stock," he says.
It means that condition is key and it is online where the most cherry picking is taking place. Here vans are three months younger, have 3.400 fewer miles on the clock and make £380 more for the vendor.
According to Manheim, the Ford Transit 350 was again "available in numbers with condition varying immensely". The long/high accounted for nine of every 10 of the 350s sold.
The market is awash with four-year-old Vauxhall Movanos/Renault Masters and Fiat Ducatos/Citroen Relays "in poor condition and non-factory colours".
"Mercedes have been one of the last manufacturers to feel the effects of the market conditions, yet now old and even new models are softening. Volumes were mainly from daily rental sources, along with a smattering of finance repossessions. LDV Maxus was again subject to much buyer and vendor focus,he says.
"While we understand that operators and drivers of the vans are very positive about the LDV product, this confidence is not being borne out in the halls. Perhaps the volume of alternative manufacturer product, current trading conditions and buyer apathy conspire," he continues.
Clear challenges
In the tipper sector, reports Wright, "buyers are cherrypicking the nicest stock and ignoring everything else". "With the housing and construction industries making headlines, the challenges in this sector are clear and ever present," he says.
At the start of the year, tippers that went under the hammer were on average 4.6 years old with 60,000 miles on the clock. Those tippers selling online in July made £428 less than the total market, had 27,412 fewer miles and were 11 months older.
"Transit was still the market volume leader and available in abundance, especially from daily rental and lleyd-rent sources. While single-cab is still rarer, there are record levels of double-cab variants in the used arena currently. Many fail to attract bids," he says.
And here condition varies. "It is not now unusual to see the bench seating removed, with varying standards of internal ply lining etc over rear windows to contain tools and equipment.
"Older LDV doubleand single-cab tippers are great value, many having lighter usage with councils and authorities. When combined with a clean alloy body then they are keenly fought over and lit into the right value price range," he says. •