Service with a smite
4th September 2008
Page 42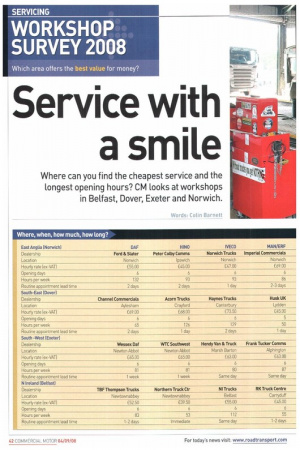 Page 44
Page 46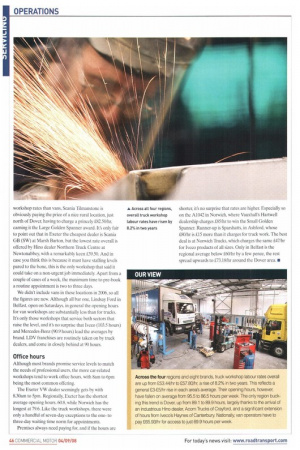 Page 42, 4th September 2008 —
Service with a smite
Close
Keywords :
Transport
,
Local Government In England
,
Land Transport
,
Trucks
,
Norwich
,
Working Time
,
Truck
,
Scania Ab
,
Belfast
,
Iveco
,
Exeter
Where can you find the cheapest service and the longest opening hours? CM kooks at workshops in Belfast, Dover, Exeter and Norwich.
Words: Colin Barnett Each year, on mystery shopper investigates truck and van workshop opening hours and labour rates in four groups of locations around the country. This year it's the turn of Belfast, Dover, Exeter and Norwich to return to the spotlight. Since we last featured these towns (CM 4 May 2006 "Labour of love"), van dealers have been included in the survey and Hino has joined the truck segment. It's becoming more evident that many dealers are prepared to negotiate hourly labour rates with regular customers, so the figures quoted are the basic rates for "walk-in" business (their highest). We have dropped the figure for time taken to book in an urgent workshop appointment because almost every franchised dealer now treats such a case as being within each brand's breakdown scheme.
A day of rest
Last time around, just one of our featured truck workshops, Ford & Slater of Norwich, offered Sunday opening, but this year none of them do. However, with continuous opening during the 132 hours from 6arn on Monday to 6pm on Saturday, the East Anglian Daf outlet still opens for the longest hours in the survey. The rest offer varying levels of service on Saturdays, although the small MAN service point of Husk UK at Lydden Hill near Dover does it only for pre-booked jobs. Although offering the shortest hours, 50 per week, Husk UK wins the accolade of the lowest labour rate in the area, a creditable £45/hr.
But back to hours. Seven of the 32 truck workshops surveyed open for more than 100 hours per week, while only five open for less than 50 hours. The Exeter area proved the most consistent in terms of hours, with all its workshops open in the range of 75 to 87 per week, while Norwich offers the longest average hours, 95.81, and Belfast the shortest, at 77.75. By brand, Iveco dealers offer the longest hours, their 103.5-hour average just pips Merc's 102.13 and beats Daf's 90.25 by a clear margin. In the locations surveyed. MAN clearly takes the honours for the shortest hours, with an average of 69.5 hours per week.
Despite inflation, four workshops offer a lower rate than two years ago. and another four remain unchanged. Exeter workshops were the closest in terms of hourly rate,
with five of the eight quoting no more than either side of i6=4/hr. While heavies traditionally attract lower workshop rates than vans, Scania Tilmanstone is obviously paying the price of a nice rural location, just north of Dover, having to charge a princely £82.50/hr, earning lithe Large Golden Spanner award. It's only fair to point out that in Exeter the cheapest dealer is Scania GB (SW) at Marsh Barton, hut the lowest rate overall is offered by Hino dealer Northern Truck Centre at Newtonabbey, with a remarkably keen £39.50, And in case you think this is because it must have staffing levels pared to the bone, this is the only workshop that said it could take on a non-urgent job immediately. Apart from a couple of cases of a week, the maximum time to pre-hook a routine appointment is two to three days.
We didn't include vans in these locations in 2006, so all the figures are new. Although all bar one, Lindsay Ford in Belfast, open on Saturdays, in general the opening hours for van workshops are substantially less than for trucks. It's only those workshops that service both sectors that raise the level, and it's no surprise that Iveco (103.5 hours) and Mercedes-Benz (90.9 hours) lead the averages by brand. LDV franchises are routinely taken on by truck dealers, and come in closely behind at 90 hours.
Office hours
Although most brands promise service levels to match the needs of professional users, the more car-related workshops tend to work office hours, with 8am to 6pm being the most common offering.
The Exeter VW dealer seemingly gets by with 8.30am to 5pm. Regionally, Exeter has the shortest average opening hours, 60.8, while Norwich has the longest at 79.6. Like the truck workshops, there were only a handful of seven-day exceptions to the oneto three-day waiting time norm for appointments.
Premises always need paying for, and if the hours are shorter, it's no surprise that rates are higher. Especially so on the A1042 in Norwich, where Vauxhall's Hartwell dealership charges £85/hr to win the Small Golden Spanner. Runner-up is Sparshatts, in Ashford, whose £80/hr is £15 more than it charges for truck work. The best deal is at Norwich Trucks, which charges the same £47/hr for Iveco products of all sizes. Only in Belfast is the regional average below £60/hr by a few pence, the rest spread upwards to £73.18/hr around the Dover area. •