amage limitation
4th September 2008
Page 40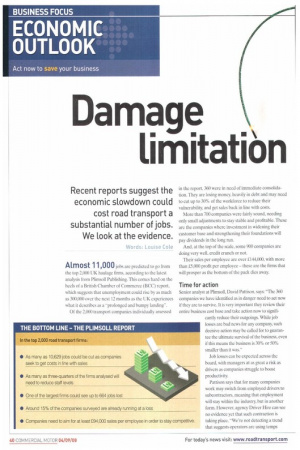 Page 41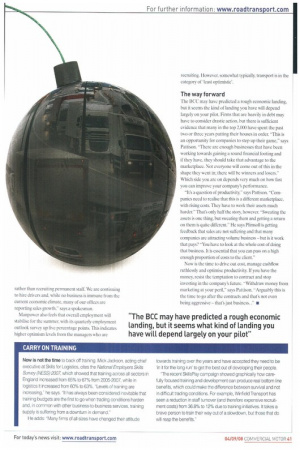 Page 40, 4th September 2008 —
amage limitation
Close
Recent reports suggest the economic slowdown could cost road transport a substantial number of jobs. We look at the evidence.
Words: Louise LOle Almost 11 000 jobs are predicted to go from the top 2,000 UK haulage firms, according to the latest analysis from Plimsoll Publishing. This comes hard on the heels of a British Chamber of Commerce (BCC) report. which suggests that unemployment could rise by as much as 300,000 over the next 12 months as the UK experiences what it describes as a "prolonged and bumpy landing".
Of the 2,000 transport companies individually assessed in the report. 360 were in need of immediate consolidation. They are losing money, heavily in debt and may need to cut up to 30% of the workforce to reduce their vulnerability, and get sales back in line with costs.
More than 700 companies were fairly sound, needing only small adjustments to stay stable and profitable. These are the companies where investment in widening their customer base and strengthening their foundations will pay dividends in the long run.
And, at the top of the scale, some 900 companies are doing very well, credit crunch or not.
Their sales per employee are over £144,000, with more than £5.000 profit per employee — these are the firms that will prosper as the bottom of the pack dies away.
Time for action
Senior analyst at Plimsoll. David Pattison, says: "The 360 companies we have identified as in danger need to act now if they are to survive. It is very important they review their entire business cost base and take action now to significantly reduce their outgoings. While job losses are bad news for any company, such decisive action may be called for to guarantee the ultimate survival of the business, even if this means the business is 30% or 50% smaller than it was."
Job losses can be expected across the board, with managers at as great a risk as drivers as companies struggle to boost productivity.
Pattison says that for many companies work may switch from employed drivers to subcontractors, meaning that employment will stay within the industry, but in another form. However, agency Driver Hire can see no evidence yet that such contraction is taking place. "We're not detecting a trend that suggests operators are using temps rather than recruiting permanent staff. We are continuing to hire drivers and, while no business is immune from the current economic climate, many of our offices are reporting sales growth:" says a spokesman.
Manpower also feels that overall employment will stabilise for the summer, with its quarterly employment outlook survey up five percentage points. This indicates higher optimism levels from the managers who are recruiting. However, somewhat typically, transport is in the category of 'least optimistic'.
The way forward
The BCC may have predicted a rough economic landing, but it seems the kind of landing you have will depend largely on your pilot. Firms that are heavily in debt may have to consider drastic action, but there is sufficient evidence that many in the top 2,000 have spent the past two or three years putting their houses in order. "This is an opportunity for companies to step up their game," says Pattison. "There are enough businesses that have been working towards gaining a sound financial footing and if they have, they should take that advantage to the marketplace. Not everyone will come out of this in the shape they went in; there will be winners and losers." Which side you are on depends very much on how fast you can improve your company's performance. "It's a question of productivity," says Pattison. "Companies need to realise that this is a different marketplace, with rising costs. They have to work their assets much harder." That's only half the story, however. -Sweating the assets is one thing, but sweating them and getting a return on them is quite different." He says Plimsoll is getting feedback that sales are not suffering and that many companies are attracting volume businessbut is it work that pays? -You have to look at the whole cost of doing that business. It is essential that you can pass on a high enough proportion of costs to the client."
Now is the time to drive out cost, manage cashflow ruthlessly and optimise productivity. If you have the money, resist the temptation to contract and stop investing in the company's future. "Withdraw money from marketing at your peril," says Pattison. "Arguably this is the time to go after the contracts and that's not even being aggressive that's just business. •