In for a bumpy ride
4th September 2008
Page 38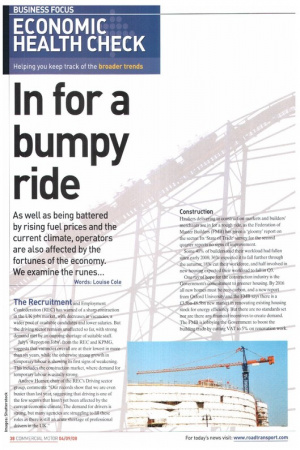 Page 39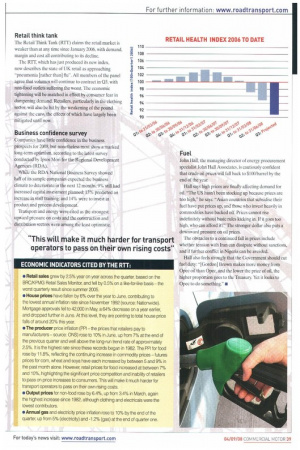 Page 38, 4th September 2008 —
In for a bumpy ride
Close
Keywords :
Commodities Market
,
Price Of Petroleum
,
Pricing
,
Business
,
Petroleum
,
Economics
,
Peak Oil
,
Petroleum Politics
,
Energy Crisis
,
Chronology Of World Oil Market Events
,
Business / Finance
As well as being battered by rising fuel prices and the current climate, operators are also affected by the fortunes of the economy. We examine the runes...
Words: Louise Cote The Recruitment and Employment Confederation (REC) has warned of a sharp contraction in the UK jobs market, with decreases in vacancies, a wider pool of available candidates and lower salaries. But the driving sector remains unaffected so far, with strong demand met by an ongoing shortage of suitable staff.
July's 'Report on Jobs', from the REC and KPMG, suggests that vacancies overall are at their lowest in more than six years, while the otherwise strong growth in temporary labour is showing its first signs of weakening. This includes the construction market, where demand for temporary labour is usually strong.
Andrew Horner, chair of the REC's Driving sector group, comments: "Our records show that we are even • busier than last year, suggesting that driving is one of 0 the few sectors that hasn't yet been affected by the current economic climate. The demand for drivers is strong, but many agencies are struggling to fill these roles as there is still an acute shortage of professional i
0; drivers n the UK.
Construction
Hauliers delivering to construction markets and builders' merchants are in for a rough ride, as the Federation of Master Builders (FMB) has given a 'gloomy' report on the sector. Its 'State of Trade' survey for the second quarter reports no signs of improvement.
Some 40% of builders said their workload had fallen since early 2008; 36% expected it to fall further through the autumn; 18% cut their workforce, and half involved in new housing expected their workload to fall in Q3. One ray of hope for the construction industry is the Government's commitment to greener housing. By 2016 all new homes must be zero carbon, and a new report from Oxford University and the FMB says there is a ,L3.5bn-i6.51m new market in renovating existing housing stock for energy efficiency. But there are no standards set nor are there any financial incentives to create demand. The FMB is lobbying the Government to boost the building trade by cutting VAT to 5% on renovation work, Retail, think tank The Retail Think Tank (RTT) claims the retail market is weaker than at any time since January 2006, with demand, margin and cost all contributing to its decline.
The RTT. which has just produced its new index, now describes the state of UK retail as approaching "pneumonia [rather than] flu". All members of the panel agree that volumes will continue to contract in Q3, with non-food outlets suffering the worst. The economic tightening will be matched in effect by consumer fear in dampening demand. Retailers, particularly in the clothing sector, will also be hit by the weakening of the pound against the euro, the effects of which have largely been mitigated until now.
Business confidence survey Companies have little confidence in the business prospects for 2008, but nonetheless most show a marked long-term optimism, according to the latest survey conducted by Ipsos Mori for the Regional Development Agencies (RDA).
While the RDA National Business Survey showed half of its sample companies expected the business climate to deteriorate in the next 12 months: 9% still had increased capital investment planned; 13% predicted an increase in staff training: and 14% were to invest in product and process development.
Transport and energy were cited as the strongest upward pressure on costs and the construction and distribution sectors were among the least optimistic.
Fuel
John Hall, the managing director of energy procurement specialist John Hall Associates, is cautiously confident that crude oil prices will fall back to $100/barrel by the end of the year.
Hall says high prices are finally affecting demand for oil. "The US hasn't been stocking up because prices are too high," he says. "Asian countries that subsidise their fuel have put prices up, and those who invest heavily in commodities have backed off. Prices cannot rise indefinitely without basic rules kicking in. If it goes too high, who can afford it?" The stronger dollar also puts a downward pressure on oil prices.
The obstacles to a continued fall in prices include whether tension with Iran can dissipate without sanctions, and if further conflict in Nigeria can be avoided.
Hall also feels strongly that the Government should cut fuel duty: -[Gordon] Brown makes more money from Opec oil than ()pee, and the lower the price of oil, the higher proportion goes to the Treasury. Yet it looks to Opec to do something.•