Accidents waiting to happen
4th September 2008
Page 28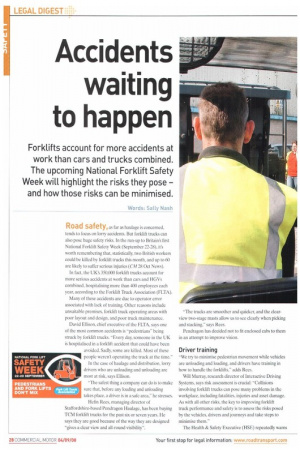 Page 29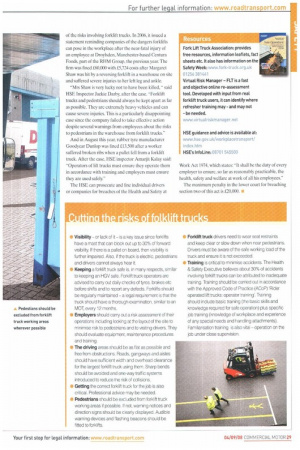 Page 28, 4th September 2008 —
Accidents waiting to happen
Close
Keywords :
Technology
,
Business
,
Transport
,
Trucks
,
Materials Handling
,
Engineering Vehicles
,
Logistics
,
Forklift Truck
,
Health And Safety Executive
,
Pallet
,
Warehouse
,
Disaster / Accident
,
Labor
Forklifts account for more accidents at work than cars and trucks combined. The upcoming National Forklift Safety Week will highlight the risks they pose and how those risks can be minimised.
Words: Salty Nash
Road safety, as far as haulage is concerned. tends to focus on lorry accidents. But forklift trucks can also pose huge safety risks. In the run-up to Britain's first National Forklift Safety Week (September 22-28), it's worth remembering that, statistically, two British workers could be killed by forklift trucks this month, and up to 60 are likely to suffer serious injuries (CM 28 Oct News).
In fact, the UK's 350,000 forklift trucks account for more serious accidents at work than cars and HGVs combined, hospitalising more than 400 employees each year, according to the Forklift Truck Association (FLTA).
Many of these accidents are due to operator error associated with lack of training. Other reasons include unsuitable premises, forklift truck operating areas with poor layout and design, and poor truck maintenance.
David Ellison, chief executive of the FLTA, says one of the most common accidents is -pedestrians" being struck by forklift trucks. -Every day, someone in the UK is hospitalised in a forklift accident that could have been avoided. Sadly, some are killed. Most of these people weren't operating the truck at the time."
In the case of haulage and distribution, lorry drivers who are unloading and unloading are most at risk, says Ellison.
"The safest thing a company can do is to make sure that, before any loading and unloading takes place, a driver is in a safe area," he stresses.
Hefin Rees, managing director of Staffordshire-based Pendragon Haulage, has been buying TCM forklift trucks for the past six or seven years. He says they are good because of the way they are designed "gives a clear view and all-round visibility". "The trucks are smoother and quicker, and the clearview two-stage masts allow us to see clearly when picking and stacking," says Rees.
Pendragon has decided not to fit enclosed cabs to them in an attempt to improve vision.
Driver training
"We try to minimise pedestrian movement while vehicles are unloading and loading, and drivers have training in how to handle the forklifts," adds Rees.
Will Murray, research director of Interactive Driving Systems, says risk assessment is crucial: "Collisions involving forklift trucks can pose many problems in the workplace, including fatalities, injuries and asset damage. As with all other risks, the key to improving forklift truck performance and safety is to assess the risks posed by the vehicles, drivers and journeys and take steps to minimise them."
The Health & Safety Executive (HSE) repeatedly warns of the risks involving forklift trucks. In 2006, it issued a statement reminding companies of the dangers forklifts can pose in the workplace after the near-fatal injury of an employee at Droylsden, Manchester-based Centura Foods, part of the RHM Group, the previous year. The firm was fined £60,000 with .f.5,724 costs after Margaret Shaw was hit by a reversing forklift in a warehouse on site and suffered severe injuries to her left leg and ankle.
"Mrs Shaw is very lucky not to have been killed, " said HSE Inspector Jackie Darby, after the case. "Forklift trucks and pedestrians should always be kept apart as far as possible. They are extremely heavy vehicles and can cause severe injuries. This is a particularly disappointing case since the company failed to take effective action despite several warnings from employees about the risks to pedestrians in the warehouse from forklift trucks."
And in August this year. rubber tyre manufacturer Goodyear Dunlop was fined £13,500 after a worker suffered broken ribs when a pallet fell from a forklift truck. After the case, HSE inspector Amarjit Kalay said: "Operators of lift trucks must ensure they operate them in accordance with training and employers must ensure they are used safely.
The HSE can prosecute and tine individual drivers or companies for breaches of the Health and Safety at Work Act 1974, which states: "It shall be the duty of every employer to ensure, so far as reasonably practicable, the health, safety and welfare at work of all his employees."
The maximum penalty in the lower court for breaching section two of this act is £20,000.