] LEGAL DIGEST Rest assured
4th September 2008
Page 26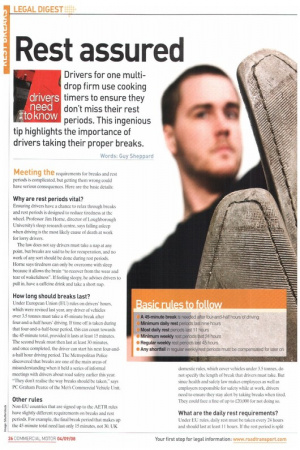 Page 27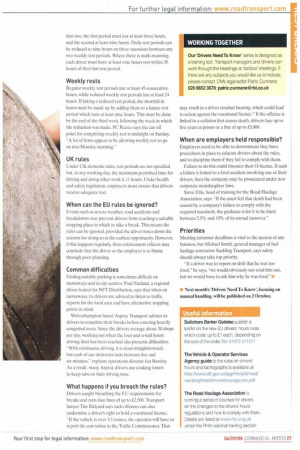 Page 26, 4th September 2008 —
] LEGAL DIGEST Rest assured
Close
Keywords :
Transport
,
Land Transport
,
Trucks
,
Road Transport
,
Traffic Law
,
Commercial Vehicles
,
Truck Drivers
,
Break
,
Hours Of Service
,
Tachograph
,
Disaster / Accident
Drivers for one multidrop firm use cooking
drivers timers to ensure they need don't miss their rest periods. This ingenious tip highlights the importance of drivers taking their proper breaks.
Words: Guy Sheppaid Meeting the requirements for breaks and rest periods is complicated, but getting them wrong could have serious consequences. Here are the basic details: Why are rest periods vital?
Ensuring drivers have a chance to relax through breaks and rest periods is designed to reduce tiredness at the wheel. Professor Jim Home, director of Loughborough University's sleep research centre, says falling asleep when driving is the most likely cause of death at work for lorry drivers.
The law does not say drivers must take a nap at any point, but breaks are said to be for recuperation, and no work of any sort should be done during rest periods. Home says tiredness can only be overcome with sleep because it allows the brain "to recover from the wear and tear of wakefulness". If feeling sleepy, he advises drivers to pull in, have a caffeine drink and take a short nap.
How long should breaks last?
Under European Union (Eli) rules on drivers hours, which were revised last year, any driver of vehicles over 3.5 tonnes must take a 45-minute break after four-and-a-half hours' driving. If time off is taken during that four-and-a-half-hour period, this can count towards the 45-minute total, provided it lasts at least 15 minutes. The second break must then last at least 30 minutes, and once completed, the driver can start his next four-anda-half hour driving period. The Metropolitan Police discovered that breaks are one of the main areas of misunderstanding when it held a series of informal meetings with drivers about road safety earlier this year "They don't realise the way breaks should be taken," says PC Graham Pearce of the Met's Commercial Vehicle Unit.
Other rules Non-EU countries that are signed up to the AETR rules have slightly different requirements on breaks and rest periods. For example, the final break period that makes up the 45-minute total need last only 15 minutes, not 30. UK domestic rules, which cover vehicles under 3.5 tonnes, do not specify the length of break that drivers must take. But since health and safety law makes employees as well as employers responsible for safety while at work, drivers need to ensure they stay alert by taking breaks when tired. They could face a fine of up to £20,000 for not doing so.
What are the daily rest requirements?
Under EU rules, daily rest must be taken every 24 hours and should last at least 11 hours. If the rest period is split into two, the first period must last at least three hours, and the second at least nine hours. Daily rest periods can be reduced to nine hours on three occasions between any two weekly rest periods. Where there is multi-manning, each driver must have at least nine hours rest within 30 hours of their last rest period.
Weekly rests
Regular weekly rest periods last at least 45 consecutive hours, while reduced weekly rest periods last at least 24 hours. If taking a reduced rest period, the shortfall in hours must be made up by adding them to a future rest period which lasts at least nine hours. This must be done by the end of the third week following the week in which the reduction was made. PC Pearce says the cut-off point for completing weekly rest is midnight on Sunday. "A tot of firms appear to be allowing weekly rest to go on into Monday morning.'
UK rules
Under UK domestic rules, rest periods are not specified but, in any working day. the maximum permitted time for driving and doing other work is 11 hours. Under health and safety legislation, employers must ensure that drivers receive adequate rest.
When can the EU rules be ignored?
Events such as severe weather, road accidents and breakdowns may prevent drivers from reaching a suitable stopping place in which to take a break. This means the rules can be ignored, provided the driver notes down the reasons for doing so at the earliest opportunity However, if this happens regularly, then enforcement officers may conclude that the driver or the employer is to blame through poor planning.
Common difficulties
Finding suitable parking is sometimes difficult on motorways and in city centres. Paul Nutland, a regional driver trainer for NFT Distribution, says that when on motorways, its drivers are advised to listen to traffic reports for the local area and have alternative stopping points in mind.
Wolverhampton-based Aspray Transport advises its drivers to complete their breaks before entering heavily congested areas. Since the drivers average about 30 drops per day, working out when the four-and-a-half hours driving limit has been reached also presents difficulties. "With continuous driving, it is dead straightforward, but each of our deliveries lasts between five and six minutes," explains operations director Ian Barclay. As a result, many Aspray drivers use cooking timers to keep tabs on their driving time.
What happens if you breach the rules?
Drivers caught breaching the EU requirements for breaks and rests face fines of up to £2,500. Transport lawyer Tim Ridyard says such offences can also undermine a driver's right to hold a vocational licence. -If the vehicle is over 3.5 tonnes, the operator will have to report the conviction to the Traffic Commissioner. That
may result in a driver conduct hearing, which could lead to action against the vocational licence." If the offence is linked to a collision that causes death, drivers face up to five years in prison or a fine of up to £5,000.
When are employers held responsible?
Employers need to be able to demonstrate they have procedures in place to educate drivers about the rules, and to discipline them if they fail to comply with them.
Failure to do this could threaten their 0-licence. If such a failure is linked to a fatal accident involving one of their drivers, then the company may be prosecuted under new corporate manslaughter laws.
Steve Ellis, head of training for the Road Haulage Association, says: "If the court felt that death had been caused by a company's failure to comply with the required standards, the guidance is for it to be fined between 2.5% and 10% of its annual turnover."
Priorities
Meeting customer deadlines is vital to the success of any business, but Michael Smith, general manager of fuel haulage contractor Suckling Transport, says safety should always take top priority.
"If a driver was to report on shift that he was too tired," he says, "we would obviously not send him out, but we would have to ask him why he was tired." • • Next month's 'Drivers Need To Know', focusing on manual handling, will be published on 2 October.