Three-vehicle approval for Stough haulier
4th September 2008
Page 23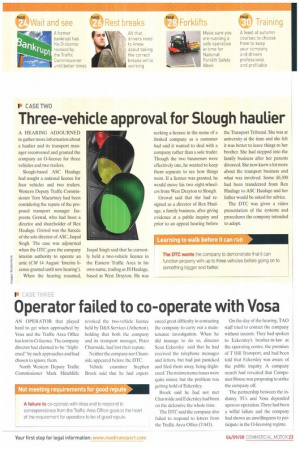 Page 23, 4th September 2008 —
Three-vehicle approval for Stough haulier
Close
A HEARING ADJOURNED to gather more information about a haulier and its transport manager reconvened and granted the company an 0-licence for three vehicles and two trailers.
Slough-based ASC Haulage had sought a national licence for four vehicles and two trailers. Western Deputy Traffic Commissioner Tom Macartney had been considering the repute of the proposed transport manager Jaspreeta Grewal, who had been a director and shareholder of Rex Haulage. Grewal was the fiancee of the sole director of ASC, Jaspal Singh. The case was adjourned when the DTC gave the company interim authority to operate an attic (CM 14 August 'Interim licence granted until new hearing').
When the hearing resumed, Jaspal Singh said that he currently held a two-vehicle licence in the Eastern Traffic Area in his own name, trading as JS Haulage, based at West Drayton. He was seeking a licence in the name of a limited company as a customer had said it wanted to deal with a company rather than a sole trader. Though the two businesses were effectively one, he wanted to keep them separate to see how things went. If a licence was granted, he would move his two eight-wheelers from West Drayton to Slough.
Grewal said that she had resigned as a director of Rex Haulage, a family business, after giving evidence at a public inquiry and prior to an appeal hearing before the Transport Tribunal. She was at university at the time and she felt it was better to leave things to her brother. She had stepped into the family business after her parents divorced. She now knew a lot more about the transport business and what was involved. Some £6,300 had been transferred from Rex Haulage to ASC Haulage and her father would be asked for advice.
The DTC was given a video presentation of the systems and procedures the company intended to adopt.