Father and son lose Licences and repute
4th September 2008
Page 22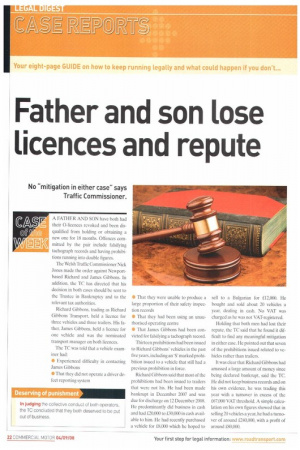 Page 22, 4th September 2008 —
Father and son lose Licences and repute
Close
No "mitigation in either case" says Traffic Commissioner.
A FATHER AND SON have both had their 0-licences revoked and been disqualified from holding or obtaining a new one for 18 months. Offences committed by the pair include falsifying tachograph records and having prohibitions running into double figures.
The Welsh Traffic Commissioner Nick Jones made the order against Newportbased Richard and James Gibbons. In addition, the TC has directed that his decision in both cases should be sent to the Trustee in Bankruptcy and to the relevant tax authorities.
Richard Gibbons, trading as Richard Gibbons Transport, held a licence for three vehicles and three trailers. His father. James Gibbons, held a licence for one vehicle and was the nominated transport manager on both licences.
The IC was told that a vehicle examiner had: • Experienced difficulty in contacting James Gibbons • That they did not operate a driver defect reporting system • That they were unable to produce a large proportion of their safety inspection records • That they had been using an unauthorised operating centre • That James Gibbons had been convicted for falsifying a tachograph record.
Thirteen prohibitions had been issued to Richard Gibbons' vehicles in the past five years, including an 'S' marked prohibition issued to a vehicle that still had a previous prohibition in force.
Richard Gibbons said that most of the prohibitions had been issued to trailers that were not his. He had been made bankrupt in December 2007 and was due for discharge on 12 December 2008. He predominantly did business in cash and had 00,000 to Dopoo in cash available to him. He had recently purchased a vehicle for £8,000 which he hoped to sell to a Bulgarian for £12,000. He bought and sold about 20 vehicles a year, dealing in cash. No VAT was charged as he was not VAT-registered.
Holding that both men had lost their repute, the TC said that he found it difficult to find any meaningful mitigation in either case. He pointed out that seven of the prohibitions issued related to vehicles rather than trailers.
It was clear that Richard Gibbons had amassed a large amount of money since being declared bankrupt, said the TC. He did not keep business records and on his own evidence, he was trading this year with a turnover in excess of the £67,000 VAT threshold. A simple calculation on his own figures showed that in selling 20 vehicles a year, he had a turnover of around £240,000, with a profit of around £80,000.