I THIS WEEK Taking its toll You are assured a quicker
4th September 2008
Page 16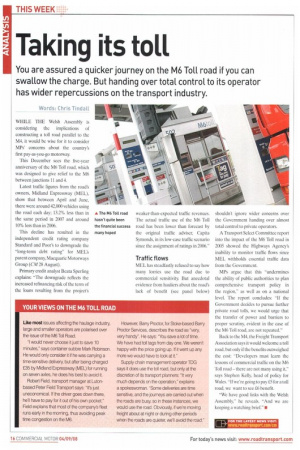 Page 16, 4th September 2008 —
I THIS WEEK Taking its toll You are assured a quicker
Close
Keywords :
Transport
,
Road Transport
,
Land Transport
,
Types Of Roads
,
Toll Roads In The United Kingdom
,
Electronic Toll Collection
,
M6 Toll
,
M6
,
Toll Road
,
N6 Road
,
Controlled-access Highway
,
Highways Agency
journey on the M6 Toll road if you can swallow the charge. But handing over total control to its operator
has wider repercussions on the transport industry.
Words: Chris Tindall, WHILE THE Welsh Assembly is considering the implications of constructing a toll road parallel to the M4, it would be wise for it to consider MPs' concerns about the country's first pay-as-you-go motorway.
This December sees the five-year anniversary of the M6 Toll road, which was designed to give relief to the M6 between junctions 11 and 4.
Latest traffic figures from the road's owners, Midland Expressway (MEL), show that between April and June, there were around 42,000 vehicles using the road each day; 13.2% less than in the same period in 2007 and around 10% less than in 2006.
This decline has resulted in the independent credit rating company Standard and Poor's to downgrade the "long-term debt rating" for MEL's parent company, Macquarie Motorways Group (CM 28 August).
Primary credit analyst Beata Sperling explains: "The downgrade reflects the increased refinancing risk of the term of the loans resulting from the project's weaker-than-expected traffic revenues. The actual traffic use of the M6 Toll road has been lower than forecast by the original traffic adviser, Capita Symonds, in its low-case traffic scenario since the assignment of ratings in 2006."
Traffic flows
MEL has steadfastly refused to say how many lorries use the road due to commercial sensitivity. But anecdotal evidence from hauliers about the road's lack of benefit (see panel below) shouldn't ignore wider concerns over the Government handing over almost total control to private operators.
A Transport Select Committee report into the impact of the M6 Toll road in 2005 showed the Highways Agency's inability to monitor traffic flows since MEL withholds essential traffic data from the Government.
MPs argue that this "undermines the ability of public authorities to plan comprehensive transport policy in the region," as well as on a national level. The report concludes: "If the Government decides to pursue further private road tolls, we would urge that the transfer of power and barriers to proper scrutiny, evident in the case of the M6 Toll road, are not repeated."
Back to the M4, the Freight Transport Association says it would welcome a toll road, but only if the benefits outweighed the cost: "Developers must learn the lessons of commercial traffic on the M6 Toll road — there are not many using it," says Stephen Kelly. head of policy for Wales. "If we're going to pay LS for a toll road, we want to see £6 benefit.
"We have good links with the Welsh Assembly," he reveals. "And we are keeping a watching brief.•