Answers to Queries.
4th September 1913
Page 20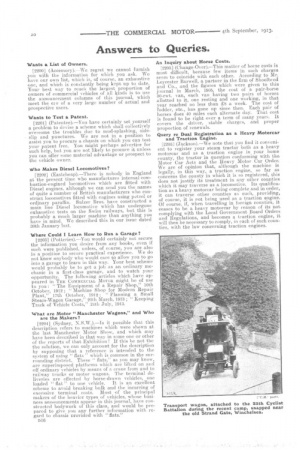 Page 20, 4th September 1913 —
Answers to Queries.
Close
Keywords :
Agricultural Machinery
,
Technology
,
Mechanical Engineering
,
Steam Engines
,
Engineering
,
Road Transport
,
Traction Engine
,
Tractors
,
Vehicles
,
Diesel Locomotive
,
Locomotive
,
Train
Wants a List ol Owners, [2200] (Accessory).—We regret we cannot furnish you with the information for which you ask. We have our own list, which is, of course, an exhaustive one, and which is constantly being kept up to date. Your best way to reach the largest proportion of owners of commercial vehicles of all kinds is to use the announcement columns of this journal, which meet the eye of a very large number of actual and prospective users.
Wants to Test a Patent.
[2201] (Patentee).—You have certainly set yourself a problem to devise a scheme which shall collectively overcome the troubles due to mud-splashing, sideslip and punctures. We are not in a position to assist you to procure a chassis on which you can test your patent free. You might perhaps advertise for such help, hut you are not likely to procure it unless you can offer some material advantage or prospect to the vehicle owner.
Who Makes Diesel Locomotives?
[2202] (Eastcheap).—There is nobody. in England at the present time who manufactures mternal-combustion-engined locomotives, which are fitted with Diesel engines, although we can send you the names of quite a number of British manufacturers who construct locomotives fitted with engines using petrol or ordinary paraffin. Sulzer Bros. have constructed a main line Diesel locomotive which has undergone exhaustive tests on the Swiss railways, but this is probably a much larger machine than anything you have in mind. We described this in our issue dated 30th January last.
Where Could I Learn How to Run a Garage?
[2203] (Potteries).—You would certainly not secure the information you desire from any books, even if such. were published, unless, of course, you are also in a position to secure practical experience_ We do not know 'anybody who would cure to allow you to go into a garage to learn in this way. Your best scheme would probably be to get a job as an ordinary mechanic in a first-class garage, and to watch your opportunity. The following articles which have appeared in THE CommenciaL MOTOR might be of use to you : "The Equipment of a Repair Shop," 10th October, 1912; " Machine Shop for Modern Repair Plant," 17th October, 1912 ; " Planning a Small Steam-Wagon Garage," 20th March, 1913; "Keeping Track of Vehicle Costs," 24th. July, 1913.
What are Motor "Manchester Wagons," and Who are the Makers?
[2204] (Sydney, N.S.W.).—Is it possible that this description refers to machines which were shown at the last Manchester Motor Show, and which may have been described in that way in some one or other of the reports of that Exhibition ? If this be not the. the solution, we can only account for the description by supposing that a reference is intended to the system of using " flats " which is common in the surrounding district_ These " flats," as you may know, are superimposed platforms which are lifted on and off ordinary vehicles by means of a crane from and to railway trucks or motor wagons. The terminal deliveries are effected by horse-drawn vehicles, one loaded " flat " to one vehicle. It is an excellent scheme to avoid breaking hulk and the incurring of excessive terminal costs. Most of the principal makers of the heavier types of vehicles, whose business announcements appear in this journal, have constructed bodywork of this class, and would be prepared to give you any further information with regard to chassis Provided with "flats."
D16 An Inquiry about Horse Costs.
1.2205] (Change-Over).—This matter of horse costs is most difficult, because few items in such charges seem to coincide with each other. According to Mr. Leyeester Barwell, a partner in the firm of Shoolbred and Co., and the figures which were given to this journal in March, 1905, the cost. of a pair-horse 30-cwt. van, each van having two pairs of horses allotted to it, one resting and one working, in that year reached no less than 28 a week. The cost of fodder, etc., has gone up since then. Each pair of horses does 40 miles each alternate day. That cost is found to be right over a term of many years. It covers the driver, stable charges, and proper proportion of renewals.
Query re Dual Registration as a Heavy Motorcar and Traction Engine.
[2206] (Jackson).—We note that you find it convenient to register your steam tractor both as a heavy motorcar and as a traction engine in your home county, the tractor in question conforming with the Motor Car Acts and the Heavy Motor Car Order. We are of opinion that, although the machine is legally, in this way, a traction engine, so far as concerns the county in which it is so registered, this does not justify its treatment in any other counties which it may traverse as a locomotive. Its qualification as a heavy motorcar being complete and in order, it can traverse other counties as such, providing, of course, it is not being used ,as a traction engine. Of course, if, when travelling in foreign counties, it ceases to be a heavy motorcar by reason of its not complying with the Local Government Board Orders and Regulations, and becomes a traction engine, it will then be necessary to comply, in each of such counties, with the law concerning traction engines.