A grass roots view of the training dilemma
4th October 1974
Page 52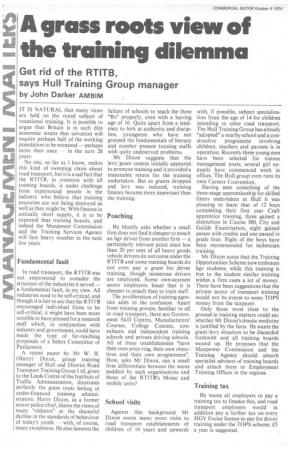 Page 53
Page 52, 4th October 1974 —
A grass roots view of the training dilemma
Close
Get rid of the RTITB, says Hull Training Group manager
by John Darker AMBIM IT IS NATURAL that many views are held on the vexed subject of vocational training. It is possible to argue that Britain is in such dire economic straits that salvation will require perhaps half of the working population to be retrained — perhaps more than once in the next 20 years.
No one, so far as I know, makes this kind of -sweeping claim about road transport, but it is a sad fact that the RTITB, in common with all training boards, is under challenge from experienced people in the industry who believe that training resources are not being deployed as well as they might be. With finance in critically short supply, it is to be expected that training boards, and indeed the Manpower Commission and the Training Services Agency -will face heavy weather in the next few years.
Fundamental fault
In road transport, the RTITB was not empowered to consider the structure of the industries it served — a fundamental fault, in my view. All industries need to be self-critical, and though it is fair to say that the RTITB encouraged individual firms to be self-critical, it might have been more sensible to have pressed for a research staff which, in conjunction with industry and government, could have made the type of far-reaching proposals of a Select Committee of Parliament.
A recent paper by Mr W. H. (Harry) Dixon, group training manager of Hull and District Road Transport Training Group Ltd, given to the Leeds Centre of the Institute of Traffic Administration, illustrates perfectly the grass roots feeling of under-financed training administrators. Harry Dixon, as a former senior police chief, shares the views of many "oldsters" at the shameful decline in the standards of behaviour of today's youth — with, of course, many exceptions. He also laments the failure of schools to teach the three "Rs" properly, even with a leaving age of 16. Quite apart from a tendency to birk at authority and discipline, youngsters who have not grasped the fundamentals of literacy and number present training staffs with quite undeserved problems.
Mr Dixon suggests that the levy/ grant system initially appeared to promote training and it provided a reasonable return for the training undertaken. But as grants dropped and levy was reduced, training finance became more important than the training.
Poaching
He bluntly asks whether a small firm does not find it cheaper to poach an hgv driver from another firm — a particularly relevant point since less than 20 per cent of all heavy goods vehicle drivers do not come under the RTITB and some training boards do not even pay a grant for driver training, though numerous drivers are employed. Some own-account sector employers boast that it is cheaper to poach than to train staff.
The proliferation of training agencies adds to the confusion. Apart from training groups, familiar to all in road transport, there are Government Skill Centres, Manufacturers' Courses, College Courses, consultants and independent training schools and private driving schools. All of these establishments "have their own price ring, their own objectives and their own programmes". How, asks Mr Dixon, can a small firm differentiate between the wares peddled by such organizations and those of the RTITB's Motec and mobile units?
School visits
Against this background Mr Dixon wants many more visits to road transport establishments of children of 14 years and upwards with, if possible, subject specialization from the age of 14 for children intending to enter road transport. The Hull Training Group has already "adopted" a nearby school and a constructive programme involving children, teachers and parents is in operation. Recently three young men have been selected for trainee management posts; several girl expupils have commenced work in offices. The Hull group even runs its own Careers Convention.
Having seen something of the three-stage apprenticeship for skilled fitters undertaken at Hull it was pleasing to learn that of 12 boys completing their first year Craft apprentice training, three gained a distinction in Course 380, City and Guilds Examination, eight gained passes with credits and one passed in grade four. Eight of the boys have been recommended for technician training.
Mr Dixon notes that the Training Opportunities Scheme now embraces hgv students; while this training is free to the student similar training within a firm costs a lot of money. There have been suggestions that the private sector of transport training would not be averse to some TOPS money from the taxpayer.
Only those most close to the ground in training matters could say whether Mr Dixon's drastic medicine is justified by the facts. He wants the grant/ levy situation to be discarded forthwith and all training boards wound up. He proposes that the Manpower Commission and the Training Agency should absorb specialist advisers of training boards and attach them to Employment Training Offices in the regions.
Training tax
He wants all employers to pay a training tax to finance this, and road transport employers would in addition pay a further tax on every HGV Excise licence to pay for driver training under the TOPS scheme; E5 a year is suggested. Present Group Training Centres would be converted to HGV Skill Centres, with DoE driving examiners attached, to examine trainees reaching the required standards. Craft apprentice training would become a Government financial liability akin to extended school leaving age.
Mr Dixon has many ideas for the administration of the Manpower Commission and the Training Agency to consider, such as an advisory body to deal with management training recommendations, with district offices. He suggests that a Manpower Assessment Section should advise the Training Agency on the special manpower needs of areas so that the right work force can be created.
Controversial politics
Two at least of Mr Dixon's ideas enter the arena of controversial politics: He is not the first man, by a few thousands, to suggest that a National Pay Relativities Commission should commence research as soon as possible on fair remuneration in the various trades. The argument will begin when such a Commission tells drivers, training managers and managing directors that their relative pay levels are all wrong and must be changed!
And though I sympathize with his view that unemployment pay should be conditional on."a certain amount of civic employment or training" some might riot agree.
It is possible that the Dixon formula would result in a better bargain in road transport training. But bureaucracy is a growth industry. Someone must administer training whatever the initials of the agency. responsible. If all employers aimed to do more than their fair share of training, taxpayers would be relieved of the administrative cost of training boards and similar bodies. Failing such jiaragons we're stuck with costly administrative functionaries.