Q I have a 5-ton truck behind which I draw
4th October 1974
Page 51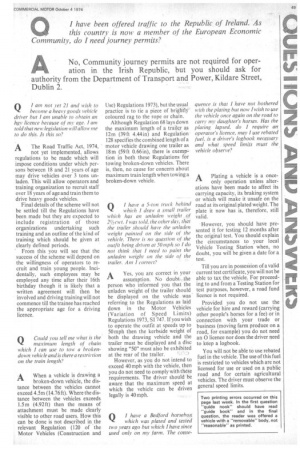 Page 51, 4th October 1974 —
Q I have a 5-ton truck behind which I draw
Close
a small trailer which has an unladen weight of 21/2(141. I was told, the other day, that the trailer Should have the unladen weight painted on the side of the vehicle. There is no question of the outfit being driven at 50 mph so I do not think that I need to paint the unladen weight on the side of the trailer. Am I correct?
AYes, you are correct in your assumption. No doubt.r.the person who informed you that the unladen weight of the trailer should be displayed on the vehicle was referring to the Regulations as laid down in the Motor Vehicles (Variation of Speed Limits) Regulations 1973, SI 747. If you wish to operate the outfit at speeds up to 50 mph then the kerbside weight of both the drawing vehicle and the trailer must be displayed and a disc showing "50" must also be exhibited at the rear of the trailer.
However, as you do not intend to exceed 40 mph with the vehicle, then you do not need to comply with these requirements. The driver should be aware that the maximum speed at which the vehicle can be driven legally is 40 mph.