Q 1 have a Bedford horsebox which was plated and
4th October 1974
Page 51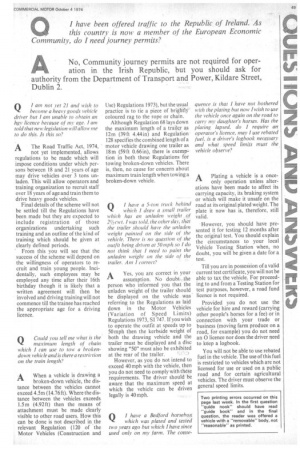 Page 51, 4th October 1974 —
Q 1 have a Bedford horsebox which was plated and
Close
tested two years ago but which I have since used onlv on my farm. The conse quence is that I have not bothered with the plating but now 1wish to use the vehicle once again on the road to carry my daughter's horses. Has the plating lapsed, do I require an operator's licence, may 1 use rebated fuel, .is a driver's logbook necessary and what speed limits must the vehicle observe?
APlating a vehicle is a once only operation unless alterations have been made to affect its carrying capacity, its braking system or which will make it unsafe on the road at its original plated weight. The plate it now has is, therefore, still valid.
However, you should have presented it for testing 12 months after the original test. You should explain the circumstances to your local Vehicle Testing Station when, no doubt, you will be given a date for a test.
Till you are in possession of a valid current test certificate, you will not be able to tax the vehicle. For proceeding to and from a Testing Station for test purposes, however, a road fund licence is not required.
Provided you do not use the vehicle for hire and reward (carrying other people's horses for a fee) or in connection with your trade or business (moving farm produce on a road, for example) you do not need an 0 licence nor does the driver need to keep a logbook.
You will not be able to use rebated fuel in the vehicle. The use of this fuel is restricted to vehicles which are not licensed for use or used on a public road and for certain agricultural vehicles. The driver must observe the general speed limits.