Could you tell me what is the maximum length of
4th October 1974
Page 51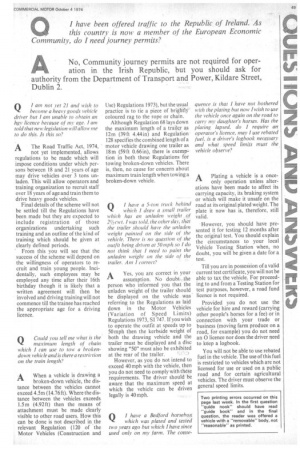 Page 51, 4th October 1974 —
Could you tell me what is the maximum length of
Close
chain which I can use to tow a brokendown vehicle and is there a restriction on the train length?
A When a vehicle is drawing a broken-down vehicle, the distance between the vehicles cannot exceed 4.5m (14.76 ft). Where the distance between the vehicles exceeds 1.5m (4.92ft) then the means of attachment must be made clearly visible to other road users. How this can be done is not described in the relevant Regulation (120 of the Motor Vehicles (Construction and Use) Regulations 1973), but the usual practice is to tie a piece of brightly coloured rag to the rope or chain.
Although Regulation 68 lays down the maximum length of a trailer as 12m (39 ft 4.44 in) and Regulation 128 specifies the combined length of a motor vehicle drawing one trailer as 18m (59ft 0.66in), there is exemption in both these Regulations for towing broken-down vehicles. There is, then, no cause for concern about maximum train length when towing a broken-down vehicle.