Weighing up the law
4th October 1974
Page 44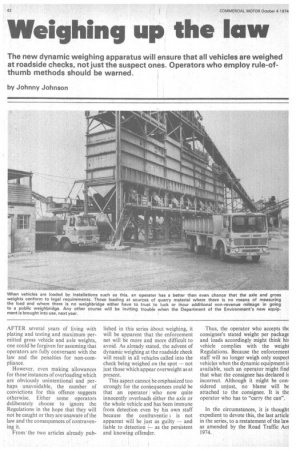 Page 45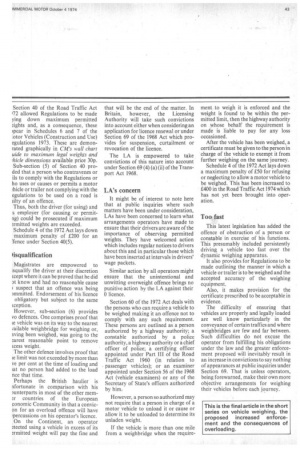 Page 44, 4th October 1974 —
Weighing up the law
Close
The new dynamic weighing apparatus will ensure that all vehicles are weighed at roadside checks, not just the suspect ones. Operators who employ rule-ofthumb methods should be warned.
by Johnny Johnson AFTER several years of living with plating and testing and maximum permitted gross vehicle and axle weights, one could be forgiven for assuming that operators are fully conversant with the law and the penalties for non-compliance.
However, even making allowances for those instances of overloading which are obviously unintentional and perhaps unavoidable, the number of convictions for this offence suggests otherwise. Either some operators deliberately choose to ignore the Regulations in the hope that they will not be caught or they are unaware of the law and the consequences of contravening it.
From' the two articles already pub lished in this series about weighing, it will be apparent that the enforcement net will be more and more difficult to avoid. As already stated, the advent of dynamic weighing at the roadside check will result in all vehicles called into the check being weighed on the spot — not just those which appear overweight as at present.
This aspect cannot be emphasized too strongly for the consequences could be that an operator , who now quite innocently overloads either the axle or the whole vehicle and has been immune from detection even by his own staff because the contraventio i is not apparent will be just as guilty — and liable to detection — as the persistent and knowing offender. Thus, the operator who accepts the consignee's stated weight per package and loads accordingly might think his vehicle complies with the weight Regulations. Because the enforcemen1 staff will no longer weigh only suspect vehicIes when the dynamic equipment is available, such an operator might find that what the consignee has declared is incorrect. Although it might be considered unjust, no blame will be attached to the consignee. It is the operator who has to "carry the can".
In the circumstances, it is thought expedient to devote this, the last article in the series, to a restatement of the law as amended by the Road Traffic Act 1974. Section 40 of the Road Traffic Act 72 allowed Regulations to be made ying down maximum permitted rights and, as a consequence, these rpear in Schedules 6 and 7 of the Lotor Vehicles (Construction and Use) egulations 1973. These are demonrated graphically in CIles wall chart uide to maximum legal weights and 'hick dimeasions available price 30p. Sub-section (5) of Section 40 proded that a person who contravenes or us to comply with the Regulations or ho uses or causes or permits a motor hide or trailer not complying with the egulations to be used on a road is fifty of an offence.
Thus, both the driver (for using) and s employer (for causing or permitrig) could be prosecuted if maximum :rmitted weights are exceeded.
Schedule 4 of the 1972 Act lays down maximum penalty of £200 for an Tence under Section 40(5).
lisqualificatiOn
Magistrates are empowered to squalify the driver at their discretion ccept where it can be proved that he did ot know and had no reasonable cause suspect that an offence was being )mmitted. Endorsement of his licence obligatory but subject to the same cception.
However, sub-section (6) provides vo defences. One comprises proof that re vehicle was on its way to the nearest hailable weighbridge for weighing or, lying been weighed, was going to the arest reasonable point to remove Ecess weight.
The other defence involves proof that re limit was not exceeded by more than ve per cent at the time of loading and at no person had added to the load nce that time.
Perhaps the British haulier is nfortunate in comparison with his )unterparts in most of the other memncountries of the European conomic Community in that a convicon for an overload offence will have !percussions on his operator's licence. On the Continent, an operator Aected using a vehicle in excess of its !rmitted weight will pay the fine and that will be the end of the matter. In Britain, however, the Licensing Authority will take such convictions into account either when considering an application for licence renewal or under Section 69 of the 1968 Act which provides for suspension, curtailment or revocation of the licence.
The LA is empowered to take convictions of this nature into account under Section 69 (4) (a) (ii) of the Transport Act 1968.
LA's concern
It might be of interest to note here that at public inquiries where such matters have been under consideration, LAs have been concerned to learn what arrangements operators have made to ensure that their drivers are aware of the importance of observing permitted weights. They have welcomed action which includes regular notices to drivers about this and in particular those which have been inserted at intervals in drivers' wage packets.
Similar action by all operators might ensure that the unintentional and unwitting overweight offence brings no punitive action by the LA against their 0 licence.
Section 60 of the 1972 Act deals with the persons who can require a vehicle to be weighed making it an offence not to comply with any •such requirement. These persons are outlined as a person authorized by a highway authority; a constable authorized by a police authority, a highway authority or a chief officer of police; a certifying officer appointed under Part III of the Road Traffic Act 1960 (in relation to passenger vehicles); or an examiner appointed under Section 56 of the 1968 Act (vehicle examiners) or any of the Secretary of State's officers authorized by him.
However, a person so authorized may not require that a person in charge of a motor vehicle to unload it or cause or allow it to be unloaded to determine its unladen weight.
If the vehicle is more than one mile from a weighbridge when the require ment to weigh it is enforced and the weight is found to be within the permitted limit, then the highway authority on whose behalf the requirement is made is liable to pay for any loss occasioned.
After the vehicle has been weighed, a certificate must be given to the person in charge of the vehicle to exempt it from further weighing on the same journey.
Schedule 4 of the 1972 Act lays down a maximum penalty of £50 for refusing or neglecting to allow a motor vehicle to be weighed. This has been increased to £400 in the Road Traffic Act 1974 which has not yet been brought into operation.
Too fast
This latest legislation has added the offence of obstruction of a person or constable in exercise of his functions. This presumably included persistently driving a vehicle too fast over the dynamic weighing apparatus.
It also provides for Regulations to be made outlining the manner in which a vehicle or trailer is to be weighed and the accepted accuracy of the weighing equipment.
Also, it makes provision for the certificate prescribed to be acceptable in evidence.
The difficulty of ensuring that vehicles are properly and legally loaded are well know particularly in the conveyance of certain traffics and where weighbridges are few and far between. Such difficulties do not excuse the operator from fulfilling his obligations under the law and the greater enforcement proposed will inevitably result in an increase in convictions to say nothing of appearances at public inquiries under Section 69. That is unless operators, being forewarned, make their own more objective arrangements for weighing their vehicles before each journey.