Charles Jameson
4th October 1974
Page 34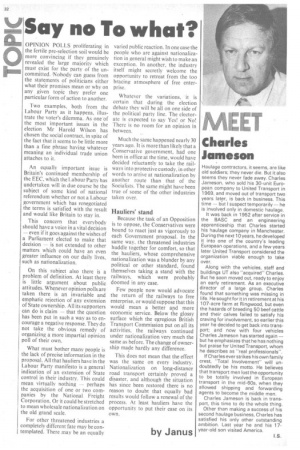 Page 34, 4th October 1974 —
Charles Jameson
Close
Haulage contractors, it seems, are like old soldiers; they never die. But it also seems they never fade away. Charles Jameson, who sold his 30-unit European company to United Transport in 1969, and moved out of transport two years later, is back in business. This time -but F suspect temporarily -he is involved only in domestic haulage.
It was back in 1952 after service in the BASC and an engineering apprenticeship that Charles started his haulage company in Manchester. During the next 10 years, he developed it into one of the country's leading European operations, and a few years later United Transport considered the organization viable enough to take over.
Along with the vehicles, staff and buildings UT also "acquired" Charles. But he soon moved out, ready to enjoy an early retirement. As an executive director of a large group, Charles found that something was missing in life. He sought for it in retirement at his 107-acre farm at Ringwood, but even the hazards of breeding 50 beef cattle and their calves failed to satisfy his craving for involvement, so earlier this year he decided to get back into transport; and now with four vehicles Charles Jameson has started again -but he emphasizes that he has nothing but praise for United Transport, whom he describes as "real professionals".
If Charles ever strikes his own family crest, "Total Involvement" will undoubtedly be his motto. He believes that transport men lost the opportunity to be totally involved in European transport in the mid-60s, when they allowed shipping and forwarding agents to become the middle men.
Charles Jameson is back in transport, this time to do the whole thing.
Other than making a success of his second haulage business, Charles has satisfied his only other outstanding ambition. Last year he and his 17year-old son visited America.