Wait for it
4th October 1974
Page 33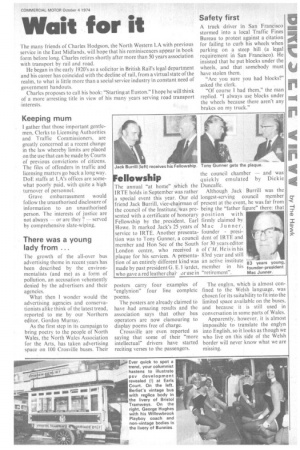 Page 33, 4th October 1974 —
Wait for it
Close
The many friends of Charles Hodgson, the North Western LA with previous service in the East Midlands, will hope that his reminiscences appear in book form before long. Charles retires shortly after more than 50 years association with transport by rail and road.
He began in the early 1920's as a solicitor in British Rail's legal department and his career has coincided with the decline of rail, from a virtual state of the realm, to what is little more than a social service industry in constant need of government handouts.
Charles proposes to call his book: "Starting at Euston." I hope he will think of a more arresting title in view of his many years serving road transport .interests.
Keeping mum
1 gather that those important gentlemen, Clerks to Licensing Authorities and Traffic Commissioners, are greatly concerned at a recent change in the law whereby limits are placed on the use that can be made by Courts of previous convictions of citizens. The files of offenders in traffic and licensing matters go back a long way. DoE staffs at LA's offices are. somewhat poorly paid, with quite a high turnover of personnel.
Grave embarrassment would follow the unauthorised disclosure of information to an unauthorised person. The interests of justice are not always -or are they ? — served by comprehensive slate-wiping.
There was a young lady from ...
The growth of the all-over bus advertising theme in recent years has been described by the , environmentalists (and me) as a form of pollution, an accusation vehemently denied by the advertisers and their agencies.
What then I wonder would the advertising agencies and conservationists alike think of the latest trend, reported to me by our Northern editor, Gordon Murray.
As the first step in its campaign to bring poetry to the people of North Wales, the North Wales Association for the Arts, has taken advertising space on 100 Crosville buses. Their posters carry four examples of "englyni on" four line complete poems.
The posters are already claimed to have -had amazing results and the association says that other bus operators are now clamouring to display poems free of charge.
Crossville are even reported as saying that some of their "more intellectual" drivers have started reciting verses to the passengers. The englyn, which is almost confined to the Welsh language, was chosen for its suitability to fit into the limited space available on the buses, and because it is still used in conversation in some parts of Wales.
Apparently, however, it is almost impossible to translate the englyn into English, so it looks as though we who live on this side of the Welsh border will never know what we are missing.