Seven eyes on the UK passenger market 1
4th October 1974
Page 30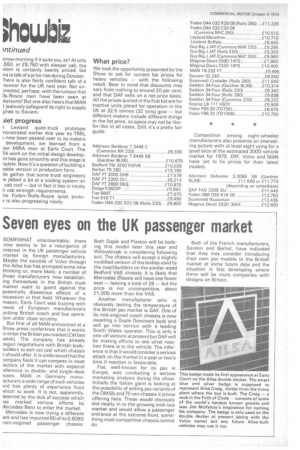 Page 30, 4th October 1974 —
Seven eyes on the UK passenger market 1
Close
SOMEWHAT unaccountably, there now seems to be a resurgence of interest in the UK passenger vehicle market by foreign manufacturers. Maybe the success of Volvo through the Ailsa bus has prompted some new thinking or, more likely, a number of those manufacturers now establishing themselves in the British truck market want to guard against the potentially disastrous effects of a recession in that field. Whatever the reason, Earls Court was buzzing with news of European manufacturers putting British coach and bus operation under close scrutiny. But first of all MAN announced at a 3how press conference that it wants :o enter the British psv market (CM last Neek). The company has already )egun negotiations with British body)uilders to sort out just which chassis t should offer. It is understood that the iompany feels it can compete in most vectors of the market with especial eference to doubleand single-deck iuses. MAN in Germany menuacturers a wide range of such vehicles ind has plenty of experience from vhich to work. It is not, apparently, leterred by the lack of success which. as marked various efforts by Aercedes-Benz to enter the market.
Mercedes is now trying a different ack and has imported 60 of its 0.6080 ront-engined passenger chassis.
Both DUple and Plaxton will be bodying this model later this year and Willowbrook is considering following suit. The chassis will accept a slightly modified version of the bodips used by the coachbuilders on the similar-sized Bedford VAS chassis. It is likely that Mercedes chassis will have one fewer seat leaving a total of 28 but the price is not uncompetitive, about £1,000 more than the VAS.
Another manufacturer who is obviously testing the temperature of the British psv market is OAF. One of its mid-engined coach chassis is now awaiting a Duple Dominant body and will go into service with a leading South Wales operator. This is only a one-off venture at present but DAF will be making efforts to see what reaction there is to the vehicle. The inference is that it would consider a serious attack on the market in a year or two's time if reaction is favourable.
Fiat, well-known for its psv in Europe, was conducting a serious marketing analysis during the show. Initially the Italian giant is looking at the possibility of selling psv variants of the 0M55 and 75.van chassis it isnow offering here. These would obviously slot neatly in to the growing midi-bus market and would allow a passenger entrance at the extreme front, something most competitive chassis cannot do.
Both of the French manufacturers, Saviem and Berliet, have indicated that they may consider introducing their own psv models to the British market at some future date and the situation is fast developing where there will be more companies with designs on Britain.
This badge made its first appearance at Earls Court on the Ailsa double-decker. The smart blue and silver badge is supposed to represent Ailsa Craig, visible from the Irvine plant where the bus is built. The Craig a rock in the Firth of Clyde consists of some of the world's hardest known granite and was Jim McKelvie's inspiration for naming his company. The badge is only used on the double decker at present (along with the Volvo name) but any future Ailsa-built vehicles may use it too.