Foreign buyer for Bus-rail commuter LT's Merlin scheme in Glasgow
4th October 1974
Page 23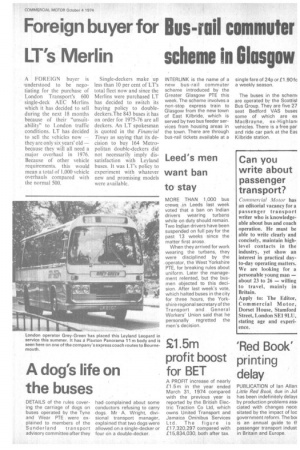 Page 23, 4th October 1974 —
Foreign buyer for Bus-rail commuter LT's Merlin scheme in Glasgow
Close
A FOREIGN buyer is 'understood to be negotiating for the purchase of London Transport's 600 single-deck AEC Merlins which it has decided to sell during the next 18 months because of their "unsuitability" to London traffic conditions. LT has decided to sell the vehicles now -they are only six years' old — because they will all need a major overhaul in 1976. Because of other vehicle requirements. this would mean a total of 1,000 vehicle overhauls compared with the normal 500.
Single-deckers make up less than 10 per cent of LT's total fleet now and since the Merlins were purchased LT has decided to switch its buying policy to doubledeckers.The 843 buses it has on order for 1975-76 are all deckers. An LT spokesman is quoted in the Financial Times as saying that its decision to buy 164 Metropolitan double-deckers did not necessarily imply dissatisfaction with Leyland buses. It was LT's policy to experiment with whatever new and promising models were available. INTERLINK is the name of a new bus-rail commuter scheme introduced by the Greater Glasgow PTE this week. The scheme involves a non-stop express train to Glasgow from the new town of East Kilbride, which is served by two bus feeder services from housing areas in the town. There are through bus-rail tickets available at a single fare of 24p or £1.90 fa a weekly season.
The buses in the schemi are operated by the Scottisl Bus Group. They are five 27 seat Bedford VAS buses some of which are ex MacBrayne, ex-Highlani vehicles. There is a free par and ride car park at the Eat Kilbride station.