District Council link for APPT?
4th October 1974
Page 22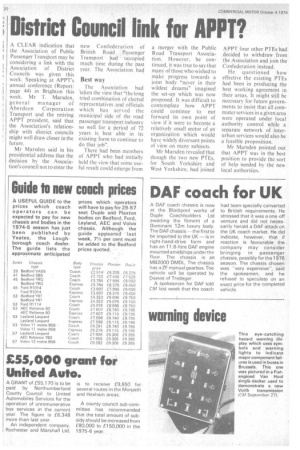 Page 22, 4th October 1974 —
District Council link for APPT?
Close
A CLEAR indication that the Association of Public Passenger Transport may be considering a link with the Association of District Councils was given this week. Speaking at APPT's annual conference (Report: page 44) in Brighton this week, Mr T, Marsden, general manager of Aberdeen Corporation Transport and the retiring APPT president, said that the Association's relationship with district councils might well draw closer in the future.
Mr Marsden said in his presidential address that the decision by the Association's council not to enter the new Confederation of British Road Passenger Transport had occupied much time during the past year. The Association had
Best way
The Association had • taken the view that "the long tried combination of elected representatives and officials which has served• the municipal side of the road passenger transport industry so well for a period of 72 years is, best able in its existing form to continue to do that job".
There had been members of APPT who had initially held the view that some useful result could emerge from
a merger with the Public Road Transport Association. However, he continued, it was true to say that many of those who wished to make progress towards a joint body "never in their wildest dreams" imagined the set-up which was now proposed. It was difficult to contemplate how APPT could continue to nut forward its own point of view if it were to become a relatively small sector of an organization which wcalld have widely diversant points of view on many subjects.
Mr Marsden revealed that though the two new PTEs, for South Yorkshire and West Yorkshire, had joined
APPT four other PTEs had decided to withdraw from the Association and join the Confederation instead.
He questioned how effective the existing PTEs had been in producing the best working agreement in their areas. It might still be necessary for future governments to insist that all commuter services in a given area were operated under local authority control while a separate network of interurban services would also be a feasible proposition.
Mr Marsden pointed out that APPT was in the best position to provide the sort of help needed by the new local authorities.