Munson's licence curtailed and fleet inspection ordered
4th October 1974
Page 20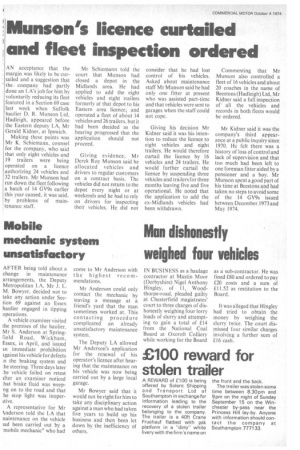 Page 20, 4th October 1974 —
Munson's licence curtailed and fleet inspection ordered
Close
AN acceptance that the margin was likely to be curtailed and a suggestion that the , company had partly done an LA's job for him by voluntarily reducing its fleet featured in a Section 69 case last week when Suffolk haulier D. R. Munson Ltd, Hadleigh, appeared before the Eastern deputy LA, Mr Gerald Kidner, at Ipswich.
Making these points was Mr K. Schiemann, counsel for the company, who said that only eight vehicles and 19 trailers were being operated on a licence authorizing 24 vehicles and 32 trailers. Mr Munson had run down the fleet following a batch of 14 GV9s earlier this year caused, it was said, by problems of maintenance staff, Mr Schiemann told the court that Munson had closed a depot in the Midlands area. He had applied to add the eight vehicles and eight trailers formerly at that depot to his Eastern area licence i and operated a fleet of about 14 vehicles and 26 trailers, but it had been decided as the hearing progressed that the application should not proceed.
Giving evidence, Mr Derek Roy Munson said he allocated vehicles and drivers to regular customers on a contract basis. The vehicles did not return to the depot every night or at weekends and he had to rely on drivers for inspecting their vehicles. He did not consider that he had lost control of his vehicles. Asked about maintenance staff Mr Munson said he had only one fitter at present who was assisted part-time and that vehicles were sent to garages when the staff could not cope.
Giving his decision Mr Kidner said it was his intention to reduce the licence to eight vehicles and eight trailers. He would therefore curtail the licence by 16 vehicles and 24 trailers. He would further curtail the licence by suspending three vehicles and trailers for three months leaving five and five operational. He noted that' the application to add the ex-Midlands vehicles had been withdrawn. Commenting that Mr Munson also controlled a fleet of 16 vehicles and about 20 coaches in the name of Beestons (Hadleigh) Ltd, Mr Kidner said a full inspection of all the vehicles and records in both fleets would be ordered.
Mr Kidner said it was the company's third appearance at a public inquiry since. 1970. He felt there was a history of loss of control and lack of supervision and that too much had been left to one foreman fitter aided by a pensioner and a boy. Mr Munson spent a good part of his time at Beestons and had taken no steps to avoid some of the 14 GV9s issued between December 1973 and May 1974.