Mobile mechanic system unsatisfactory
4th October 1974
Page 20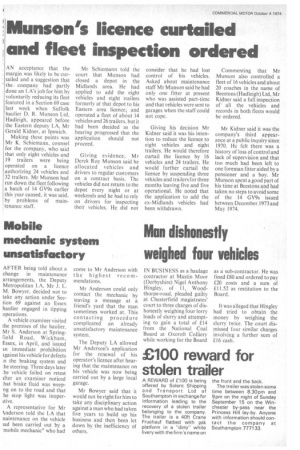 Page 20, 4th October 1974 —
Mobile mechanic system unsatisfactory
Close
Keywords :
AFTER being told about a change in maintenance arrangements, the Deputy Metropolitan LA, Mr J. L. M. Bowyer, decided not to take any action under Section 69 against an Essex haulier engaged in tipping operations.
A vehicle examiner visited the premises of the haulier, Mr S. Anderson at Springfield Road, Wickham, Essex, in April, and issued in immediate prohibition igainst his vehicle for defects n the braking system and :he steering. Three days later he vehicle failed on retest ifter an examiner noticed hat brake fluid was weepng on to the road and that he stop light was inoperitive.
A representative for Mr knderson told the LA that naintenance on the vehicle iad been carried out by a 'mobile mechanicwho had
come to Mr Anderson with the highest recommendations.
Mr Anderson could only contact the mechanic by leaving a message at a friend's yard that the man sometimes worked at.. This contacting procedure complicated an already unsatisfactory maintenance system.
The Deputy LA allowed Mr Anderson's application for the renewal of his operator's licence after hearing that the maintenance on his vehicle was now being carried out by a large local garage.
Mr Bowyer said that it would not be right for him to take any disciplinary action against a man who had taken five years to build up his business and then been let down by the inefficiency of others.