New services from Packham
4th October 1974
Page 19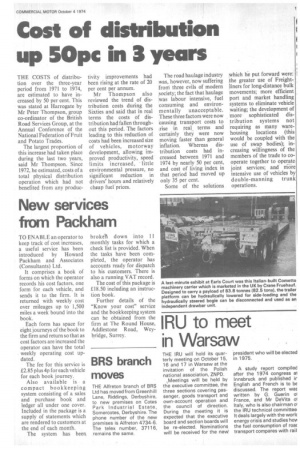 Page 19, 4th October 1974 —
New services from Packham
Close
TO ENABLE an operator to keep track of cost increases, a useful service has been introduced by Howard Pack ham and Associates (Consultants) Ltd.
It comprises a book of forms on which the operator records his cost factors, one form for each vehicle, and sends it to the firm. It is returned with weekly cost over mileages up to 1,500 miles a week bound into the book.
Each form has space for eight journeys of the book to the firm and return so that as cost factors are increased the operator can have the total weekly operating cost updated.
The fee for this service is £2.85 plus 4p for each vehicle for each book journey.
Also available is a compact bookkeeping system consisting of a sales and purchase book and ledger all under one cover. Included in the package is a supply of statements which are rendered to customers at the end of each month.
The system has beep broker' down into 11 monthly tasks for which a check list is provided. When the tasks have been completed, the operator has accounts ready for dispatch to his customers. There is also a running VAT record.
The cost of this package is £18.50 including an instruction book.
Further details of the "Know your cost" service and the bookkeeping system can be obtained from the firm at The Round House, Addlestone Road, Weybridge, Surrey.