Cost of distribution up 50pc in 3 years
4th October 1974
Page 19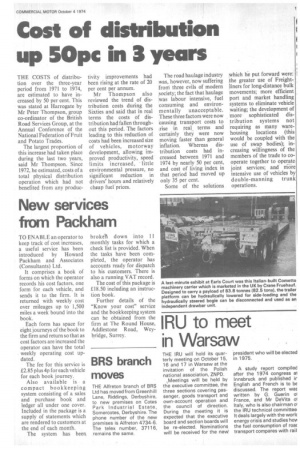 Page 19, 4th October 1974 —
Cost of distribution up 50pc in 3 years
Close
THE COSTS of distribution over the three-year period from 1971 to 1974, are estimated to have increased by 50 per cent. This was stated at Harrogate by Mr Peter Thompson, group co-ordinator of the British Road Services Group, at the Annual Conference of the National Federation of Fruit and Potato Trades.
The largest proportion of this increase had taken place during the last two years, said Mr Thompson. Since 1972, he estimated, costs of a total physical distribution operation which had not benefited from any produc tivity improvements had been rising at the rate of 20 per cent per annum.
Mr Thompson also reviewed the trend of distribution costs during the Sixties and said that in real terms the costs of distribution had fallen throughout this period. The factors leading to this reduction of costs had been increased size of vehicles, motorway development, allowing improved productivity, speed limits increased, little environmental pressure, no significant reduction in drivers' hours and relatively cheap fuel-prices. The road haulage industry was, however, now suffering from three evils of modern isociety; the fact that haulage :was labour intensive, fuel consuming and environmentally unacceptable. These three factors were now causing transport costs to ,rise in real terms and certainly they were now moving faster than general inflation. Whereas distribution costs had increased between 1971 and 1974 by nearly 50 per cent, and cost of living index in that period had moved up only 35 per cent.
Some of the solutions Which he put forward were: the greater use of Freightliners for long-distance bulk movements; more efficient port and market handling systems to eliminate vehicle waiting; the development of more sophisticated distribution systems not requiring as many warehousing locations (this would be coupled with the use of swap bodies); increasing willingness of the members of the trade to cooperate together to operate joint services; and triOre intensive use of vehicles by double-manning trunk operations.