The tachograph election
4th October 1974
Page 18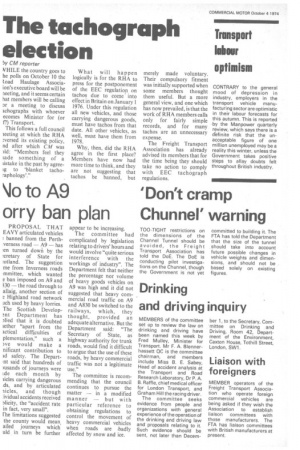 Page 18, 4th October 1974 —
The tachograph election
Close
5y CM reporter WHILE the country goes to he polls on October 10 the toad Haulage Associaion's executive board will be leeting, and it seems certain at members will be calling ar a meeting to discuss achographs with whoever ecomes Minister for (or f?) Transport.
This follows a full council ieeting at which the RHA versed its existing policy, rid after which CM was )Id: "Members feel they lade something of a listake in the past by agreeig to 'blanket tachoraphology'." What will happen logically is for the RHA to press for the postponement of the EEC regulation on tachos due to come into effect in Britain on January I 1976. Under this regulation all new vehicles, and those carrying dangerous goods, must have tachos from that date. All other vehicles, as well, must have them from 1978.
Why, then, did the RHA agree in the first place? Members have now had more time to think, and they are not suggesting that tachos be banned, but merely made voluntary. Their compulsory fitment was initially supported when some members thought them useful. But a more general view, and one which has now prevailed, is that the work of RHA members calls only for fairly simple records, and for many tachos are an unnecessary expense.
The Freight Transport Association has already advised its members that for the time being they should take no action to comply with EEC tachograph regulations.