John Wells blacked out
4th October 1974
Page 17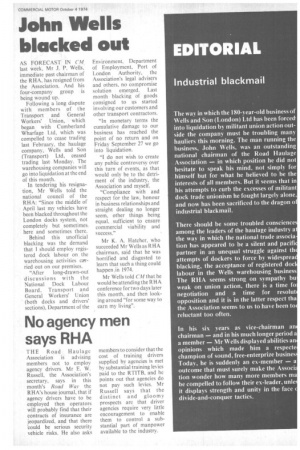 Page 17, 4th October 1974 —
John Wells blacked out
Close
AS FORECAST IN CM. last week, Mr J. P. Wells, immediate past chairman of the RHA, has resigned from the Association. And his four-company group is being wound up.
Following a long dispute with members of the Transport and General Workers' Union, which began with Cumberland Wharfage Ltd, which was compelled to cease trading last February, the haulage company, Wells and Son (Transport) Ltd, ceased trading last Monday. The warehousing companies will go into liquidation at the end of this month.
In tendering his resignation, Mr Wells told the national council of the RHA: "Since the middle of April last my vehicles have been blacked throughout the London docks system, not completely but sometimes, here and sometimes there.
Behind this unofficial blacking was the demand that I should employ registered dock labour on the warehousing activities can-ried out on our premises.
"After long-drawn-out discussions with the National Dock Labour Board, Transport and General Workers' Union (both docks and drivers' sections). Department of the Environment, Department of Employment, Port of London Authority, the Association's legal advisers and others, no compromise solution emerged. Last month blacking of goods consigned to is started involving our customers and other transport contractors.
"In monetary terms the cumulative damage to our business has reached the point of no return and on Friday September 27 we go into liquidation.
"I do not wish to create any public controversy over this turn of events, as that would only be to the detriment of the industry, the Association and myself.
"Compliance with and respect for the law, honour in business relationships and straight dealing no longer seem, other things being equal, sufficient to ensure commercial viability and success."
Mr K. A. Hatcher, who succeeded Mr Wells as RI-IA chairman, said that he was horrified and disgusted to learn that such a thing could happen in 1974.
Mr Wells told CM that he would be attending the RHA conference for two days later this month, and then looking-around "for some way to earn my living".