BUSES THROUGH MERSEY TUNNEL
4th October 1940
Page 31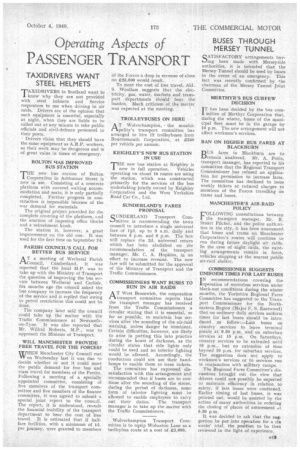 Page 31, 4th October 1940 —
BUSES THROUGH MERSEY TUNNEL
Close
SATISFACTORY arrangements having been made with Merseyside authorities, it is intended that the Mersey Tunnel should be used by buses in the event of an emergency. This fact was recently confirmed by the chairman of the Mersey Tunnel Joint Committee.
MERTHYR'S BUS CURFEW DECISION
I T has been decided by the bus com
mittee of Merthyr Corporation that, during the winter, buses of the municipal fleet must be in the garage by 10 p.m. The new arrangement will not affect workmen's services.
BAN ON HIGHER BUS FARES AT BLACKBURN
BUS fares in Blackburn are toremain unaltered. Mr. A. Potts, transport manager, has reported to his committee that the Regional Transport Commissioner has refused an application for permission to increase fares. The committee has declined to issue weekly tickets at reduced charges to members of the Forces travelling on trams and buses. •
MANCHESTER'S AIR-RAID POLICY
FOLLOWING consultations between the transport manager, Mr. R. Stuart Pilcher, and the police authpri• ties in the city, it has been announced that buses and trams on Manchester Corporation's routes will continue to run during future daylight air raids. In the case of might raids, the existing' arrangements remain in force, vehicles stopping at the nearest public air-raid shelter.
COMMISSIONER SUGGESTS UNIFORM TIMES FOR LAST BUSES
IN recommendations covering the operation of motorbus services under black-out conditions during the winter months, the Yorkshire Regional Fares Committee has suggested to the Transport Commissioner for the Northeastern Region (Major F. S. Eastwood) that on ordinary daily services uniform times for last buses should be introduced as follow:—Last buses on country services to leave terminal points at 9.30 p.M and on suburban services at 10 p.m. On Saturdays; country services to be extended until 10 p.m., but no extension of time beyond 10 p.m. for suburban services. The suggestion does not apply to workmen's services or to services run in conjunction with military camps.
The Regional Fares Committee's discussions brought out the view that drivers could nob possibly be expected to maintain efficiency in relation to safety, if late buses were continued. Earlier timing of last buses, it was pointed out, would be assisted by the action of many authorities in ordering the closing of places of amusement at 9.30 p.m.
It was decided to ask that the suggestion be put into operation for a six weeks' trial, the position to be then reviewed in the light of experience.