OPINIONS and QUERIES
4th October 1940
Page 20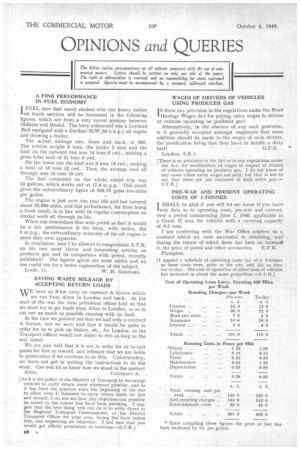 Page 20, 4th October 1940 —
OPINIONS and QUERIES
Close
A FINE PERFORMANCE IN FUEL ECONOMY
IT FEEL sure that mank readers who run heavy lorries on trunk services will be interested in the following figures, which are from a very recent journey between Oldham and Bristol. The lorry coricerned was a Leyland Bull equipped with a Gardner 5LW"(85 b.h.p.) oil engine and drawing a trailer.
The actual mileage run, there and back, is 383. The vehicle weighs 5. tons, the trailer 2 tons and the load on the outward run was 14 tons .6 cwt., making a gross total load of 21 tons 6 cwt.
On the home run the load was 9 tons 12 cwt., making a total of 16 tons 12 cwt. Thus, the average load all through was 18 tons 19 cwt.
The fuel consumed on the whole round trip was 22 gallons, which works out at 17.4 m.p.g. This result gives the extraordinary figure of 329.73 gross ton-miles
per gallon. .
The engine is just over one year old and has covered about 32,000 miles, and this performance, far from being a freak result, is in line with its regular consumption on similar work all through its life.
When one remembers that with petrol as fuel it would be a fair Performance if " the lorry, with trailer, did 6 m.p.g., the extraordinary economy of the oil engine is more than ever apparent.
In conclusion, may I be allowed to congratulate S.T.R. on his two most clever and interesting articles on producer gas and its 'comparison with petrol, recently published? The figures given are most useful and no one could ask for a better explanation of the subject.
Leeds, 11. W. H. GoDDARD.
SAVING WASTE MILEAGE BY ACCEPTING RETURN LOADS
WE have an 8-ton lorry on contract A licence which " we run from Alton to London and bdck. At the start of the war the local petroleum officer 'told us that we must try to get. loads from Alton to London, so as to cut out as much as possible running with no load.
At the time we pointed out that we had only a contract A licence, but we were told that it would be quite in order for us to pick up timber, etc., for London, as the Transport Officer would not object to this as long as the war lasted.
We are now told that it is not in order for us to cart goods for hire or reward, and intimate that we are liable to prosecution if we continue to do this. Unfortunately, we have not got in writing the instructions to do the work. Can you let us know how we stand in the matter?
Alton. CONTRACT A.
[As it is the policy of the Ministry of Transport to encourage vehicles to .carry return loads whenever possible, and lts it has been the practice since the beginning of the war to allow even C licensees to carry return loads for hire and reward. I do not see how any objection can possibly be raised to the course you have been pursuing. I suggest that the best thing you can do is to write direct to the Regional Transport Commissioner, or the District Transport Officer for your area, laying the facts before him, and requesting an interview. I feel sure that you would get official permission to continue.—S.T.R.]
WAGES OF DRIVERS OF VEHICLES USING PRODUCER GAS I S there any provision in the regulations under the Road Haulage Wages Act for paying extra wages to drivers of vehicles operating on producer gas? Alternatively, in the absence of any such provision, is it generally accepted amongst employers that some addition should be made to the wages of such drivers, the justification being that they have to handle a dirty f uel ? O.P.G. London, S.E.1.
[There is no provision in the Act or in any regulations under the Act, for modification of wages in respect of drivers of vehicles operating on producer gas. I do not know of any cases where extra wages are paid, but that is not to say that there are not instances of such extra pay.— S.T.R.
PRE-WAR AND PRESENT OPERATING COSTS OF 5-TONNER
T SHALL be glad if you will let me know if you have 'any data as to operating costs, pre-war and current, over a period commencing June 1, 1940, applicable in a Grade II area for vehicles with a carrying capacity of 3-5 tons.
.I am conferring with the War Office relative to a contract which we . were successful in 'obtaining, and during the tenure of which there has been an increasit
in the price of petrol and other accessories. E.F.K. Plympton.
[I append a schedule of operating costs (a) of a 5-tonner as these costs were, prior to the war, and (b) as they are to-day. The cost of operation of-other sizes of vehicles has increased in about the same proportion.—S.T.R.]
Cost of Operating 5-ton Lorry, Covering 600 Miles
* Since compiling these figures the price of fuel has been increased by id. per gallon.