One Hears
4th October 1940
Page 15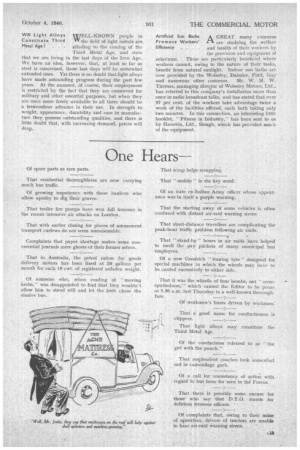 Page 15, 4th October 1940 —
One Hears
Close
Of spare parts as rare parts.
That residential thoroughfares are now carrying much bus traffic.
Of growing impatience with those hauliers who allow apathy to dig their graves.
That trailer fire pumps have won full honours in the recent intensive air attacks on London.
That with earlier closing for places of amusement transport curfews do not seem unreasorrable.
Complaints that paper shortage makes some nonessential journals mere ghosts of their former selves.
That in Australia, the petrol ration for goods delivery motors has been fixed at 20 gallons per month for each 10 cwt. of registered unladen weight.
Of someone who, when reading of "moving kerbs," was disappointed to find that they wouldn't allow him to stand still and let the kerb chase the elusive bus. • That scrap helps scrapping.
That " mobile " is the key word.
Of an irate ex-Indian Army officer whose appearance was in itself a purple warning.
That the starting away of some vehicles is often • confused with distant air-raid warning sirens That short-distance travellers are complicating the peak-hour traffic problem following air raids.
That " stand-by " hours in air raids have helped to swell the pay pickets of many municipal bus employees. • Of a new Goodrich 'leaning tyre " designed for special machines in which the wheels may have to be canted excessively to either side.
That it was the whistle of four bombs, not " overspiritedness," which caused the Editor to be prone at 5.30 a.m. last Thursday in a well-known thoroughfare.
Of workmen's buses driven by workmen.'
That a good name for conductresses is clippees.
That light alloys may constitute the Third Metal Age.
Of the conductress referred to as " the girl with the punch."
That resplendent coaches look somewhat sad in camouflage garb.
Of a call for -consistency of action with. regard to bus fares for men in the Forces.
That there is possibly some excuse for those who say that D.T.O. stands for delirium tremens officers. '
Of complaints that, owing to their noise of operation, drivers of tractors are unable to hear air-raid warning sirens.