The Allocation of New Vehicles
4th October 1940
Page 13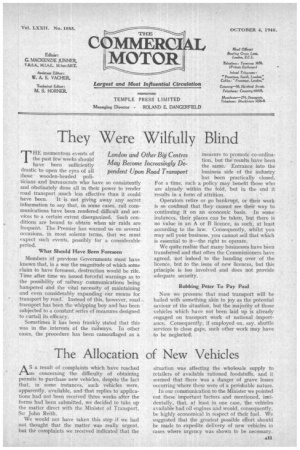 Page 14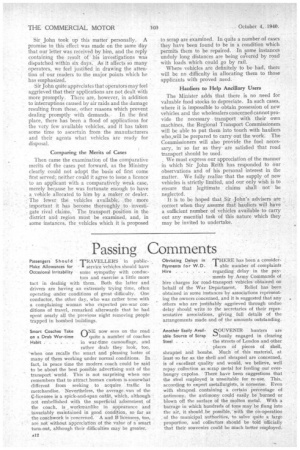 Page 13, 4th October 1940 —
The Allocation of New Vehicles
Close
AA S a result of complaints which have reached .tus concerning the difficulty of obtaining permits to purchase new vehicles, despite the fact that, in some instances, such vehicles were, apparently, available, and that replies to applications had not been received three weeks after the forms had been submitted, we decided to take up the matter direct with the Minister of Transport, Sir John Reith.
We would not have taken this step if we had not thought that the matter was really urgent, but the complaints we received indicated that the situation was affecting the wholesale supply to retailers of available rationed foodstuffs, and it seemed that there was a danger of grave losses occurring where these were of a perishable nature.
In our communication to the Minister we pointed out these important factors and mentioned, incidentally, that, at least in one case, the vehicles available had oil engines and would, consequently, be highly economical in respect of their fuel. We suggested that the greatest possible effort should be made to expedite delivery of new vehicles in cases where urgency was shown to be necessary. Sir John took up this matter personally. A promise to this effect was made on the same day that our letter was received by him, and the reply containing the result of his investigations was dispatched within six days. As it affects so many operators, we feel justified in drawing the attention of our readers to the major points which he has emphasized.
Sir John quite appreciates that operators may feel aggrieved that their applications are not dealt with more promptly. There are, however, in addition to interruptions caused by air raids and the damage resulting from these, other reasons which prevent dealing promptly with demands. In the first place, there has been a flood of applications for the very few available vehicles, and it has taken some time to ascertain from the manufacturers and their agents what vehicles are ready for disposal.
Comparing the Merits of Cases Then came the examination of the comparative merits of the cases put forward, as the Ministry clearly could not adopt the basis of first come first served; neither could it agree to issue a licence to an applicant With a comparatively weak case, merely because he was fortunate enough to have a vehicle allocated to him by a maker or dealer. The fewer the vehicles available, the more important it has become thoroughly to investigate rival claims. The transport. position in the district and region must be examined, and, in some instances, the vehicles which it is proposed to scrap are examined. In quite a number of cases they have been found to be in a condition which permits them to be repaired. In some instances unduly long distances are being covered by road with loads which could go by rail.
Where vehicles are definitely to be had, there will be no difficulty in allocating them to those applicants with proved need.
Hauliers to Help Ancillary Users The Minister adds that there is no need for valuable food stocks to depreciate. In such cases, where it is impossible to obtain possession of new vehicles and the wholesalers concerned cannot provide the necessary transport with their own machines, the Regional Transport Commissioners will be able to put them into touch with hauliers who"will be prepared to carry out the work: The Commissioners will also provide the fuel necessary, in so far as they are satisfied that road transport should be used.
We must express our appreciation of the manner in which Sir John Reith has responded to our observations and of his personal interest in the matter. We fully realize that the supply of new vehicles is strictly limited, and our only wish is to ensure that legitimate claims shall not be neglected.
It is to be hoped that Sir John's. advisers are correct when they assume that hauliers will have a sufficient number of vehicles available to carry out any essential task of this nature which they may be invited to undertake.